Goo Hara finds redemption after old singing performance video resurfaces
Netizens discuss a video that has resurfaced recently, a live performance of KARA's Goo Hara from a dome tour in Japan.

With the latest viral video of Goo Hara's MR removed "Choco Chip Cookie," another video has surfaced in defense of Goo Hara. Earlier, we reported that netizens challenged fans to listen through the entire video of Goo Hara's live performance. The video has since reached nearly one million views after Koreaboo reported on it yesterday.
The latest video to pique the interest of netizens shows her supposedly much "improved" vocal abilities. Here is the direct translation of the post and comments and the videos below!
Originally titled "Recent Goo Hara's Shocking Live hahahahaha.avi":
"Goo Hara at concert in Japan"
https://youtu.be/kW3RgY9a6Iw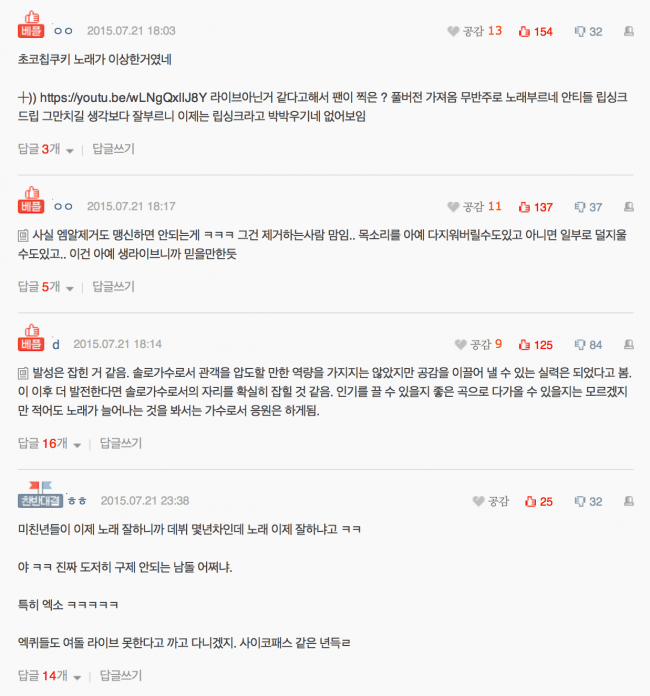 [ +154 / -32] I guess Choco Chip Cookie song is weird
Here is the video that a fan took in case people didn't believe it was live. This is the full version. She sings to no music. Anti-fans can't comment about lip-syncing. Now that she sings better than they think, the anti-fans keep accusing her of lip-sync.
[ +137 / -37] You can't really trust MR removed videos hahaha because it all depends on the creator of the video.. you can delete their voice or delete less.. but this is live so you can believe it.
[ +125 / -84] I think she got the vocalization down. But she doesn't have the lung capacity to captivate the audience as a solo artist, but enough for people to understand her. If she improves more than this, she can maybe become a true solo artist. I can only cheer her because I see that she is improving. Time will tell if she can grow more popular or a good song comes by.
VS COMMENT [ +29 / -30] Crazy bitches, how many years since she made her debut and you're saying NOW she is improved at singing? haha Yo haha what about those male idols that cannot be saved. Especially EXO hahahahaha EXO lovers probably go around saying girl idols can't sing. You bitches are like psychopaths.
Source: Pann
Share This Post