Happy Birthday to Eric Nam, Yugyeom, and Sirius Sungje!
Happy birthday to Eric Nam, GOT7's Yugyeom, and Supernova's Sirius Sungje!
Singer Eric Nam turns 27 years old today on November 17th, as fans send him wishes using the tag #EricNamDay. Fans also attached many photos of Eric from After School Club, the show which Eric Nam co-hosts, which connects fans to their idols. Recently, Eric Nam, along with Super Junior's Henry, was featured in CTV's Morning Live where he spoke about the Hallyu Wave trend. 
Meanwhile, GOT7's maknae Yugyeom turns 18 years old, as his birthday tag #HappyGyeomDay stands at #1 trending worldwide. Not only does Yugyeom steal first place on the list, but he also trended at #10 with many fans tweeting, "HAPPY BIRTHDAY Yugyeom." JYP Entertainment also wishes the maknae a happy birthday by posting a photo of Yugyeom holding up a peace sign with the words, "Happy Birthday Yugyeom" written on it.
GOT7 has recently reached their 10 month anniversary on November 16th and the boys are currently preparing for their comeback with the music video, "Stop Stop It."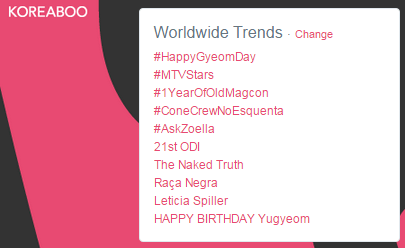 HAPPY BIRTHDAY Yugyeom #HappyGyeomDay pic.twitter.com/gXSvwB3nLQ

— JYPnation (@jypnation) November 16, 2014
Supernova's Sungje also celebrates his birthday, turning 29 years old. Starting out with promoting in Korea in 2007, Supernova took a turn and began increasing their activities in Japan in 2009. Their latest group activity was the release of their Japanese album, "SIX" in 2013. Sungje is currently serving in the army!
Share This Post