#HappyVDay trends #1 Worldwide for BTS' V's 20th Birthday
BTS' member V turns 20 on December 30th and A.R.M.Y.'s around the world are wishing him happy birthday by trending #HappyVDay number one worldwide on Twitter. In addition, #20th Happy 'V' and #Kim Taehyung, which is V's given name, also trended worldwide at #6 and #10 respectively.
The bass vocalist is known for his bright smile and quirky personality which was recently showcased in an episode of Bangtan Bomb, the group's web series that showcases scenes from their daily lives. V is seen dancing to a looped version of BTS' summer comeback track "Danger" and dances to the same line repeatedly!
BTS recently announced their a Japanese album release as well as a Japanese tour after finishing their first International tour, BTS 2014 LIVE TRILOGY EPISODE II. THE RED BULLET. They were also spotted on stage with senior groups 2PM and VIXX during KBS Gayo Daechukje for a collaboration and posed for a group photo with the team backstage.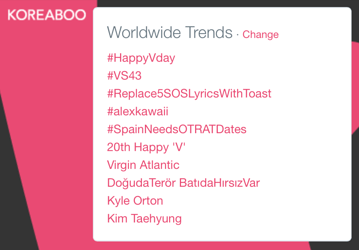 Share This Post