Idol group member accused of rape; agency responds with statement
An member from an idol group has been accused of rape, prompting police to begin an investigation of the situation. 
On March 5th, YTN News reported that a teen idol (B) had been accused of rape by a woman (A) in her 20s.
According to the reports, B met A on November 22, 2014 through an acquaintance, only to meet again at A's house two days later where she claimed he raped her. Six days later on November 28th, A claimed that B visited her house again under the guise of apologizing, but had attempted to rape her again.
However, B's agency has denied such claims. It was further revealed that police have completed taking A's statement as of February 27th and has summoned B to question him and get his side of the story.
Following the aired news of the allegations, netizens have uncovered that the blurred photos — a group holding up the Korean flag in celebration of March 1st — used in the news segment matched that of idol group ZEST, who made their debut in 2010.
As news spread that the accused idol member may have been from ZEST, Zenith Star Entertainment further released a statement saying, "We are monitoring the situation. In truth, A has been blackmailing us saying 'I'll find private information on you and put it on tabloids and internet' since a few months ago. We will be reporting this to the cyber police. A kept posting posts meant to hurt our image on Facebook so we messaged her and attempted to contact her was met with no response. We will have to go to the police and investigate further but we have all the necessary information to dispute the claims."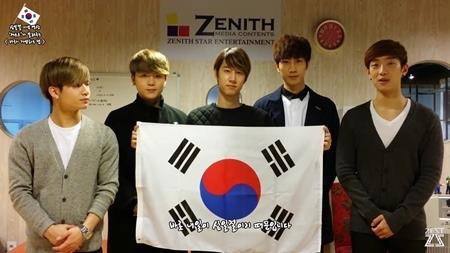 Source: My Daily, YTN News and TV Daily
Share This Post