How iKON comes up with their title songs
One of the most important things to do when writing a song is to come up with a title that best fits the song, especially if you want to make it memorable.
A netizen shared a Kakao conversation on Instiz, titling the post "The strange reason for iKON's title song (ft. BIGBANG)," sharing a humorous reason as to the odd titling of iKON's tracks.
Read the translation of the screen capture provided by the netizen below:
Find out what Netizens had to say about this article below!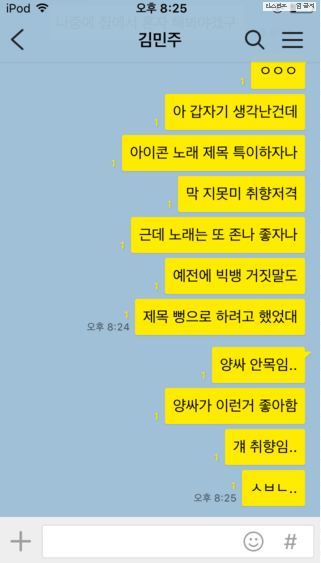 "ㅇㅇㅇ
Hey, this just came to mind
You know how iKON has weird names
Like Jimotmi ("Apology"), Chwihyangjeokyeok ("My Type") (Translator note: slang words in Korean)
But than the songs are crazy good
Before they were trying to title BIGBANG's 'LIE' as 'Bullshit' instead
This is YG…
Papa YG loves things like this
It's his taste in titles..
So dumb.."
Meanwhile, iKON recently dropped their latest singles, a double title track one of which features B.I and Bobby with "Anthem." The track "Apology" has been getting well-received by the public as it continues to top high on the charts, hitting #1 on several digital charts in its first few days of release.
---
NETIZEN REACTIONS
Koreaboo has collected reactions from Netizens who commented on the original article from our Korean source. The below comments are the most popular comments at the time of this article being published.
---
What….Bullshit ㅋㅋㅋㅋㅋ
ㅋㅋㅋㅋㅋㅋㅋ Bullshit ㅋㅋㅋㅋㅋㅋ
ㅋㅋㅋㅋ Pa Pa YG ㅋㅋㅋㅋㅋㅋㅋㅋㅋㅋ
So it would have been.."I'm so sorry but I love you actually it's all bullshit" ㅋㅋㅋㅋㅋ
I heard GD came up with the title Bullshit ㅋㅋㅋㅋ
Papa YG and his tastes ㅋㅋㅋㅋㅋ
Source: Instiz
Share This Post