INFINITE's Sungkyu completes jacket photoshoot for solo comeback
On the evening of April 15th, a photographer assistant shared a photo from a jacket photoshoot venue, where the main lead was revealed to be INFINITE's leader Sungkyu, who is preparing for his solo comeback!
The assistant to the photography team, lesshot, shared the back view of the lower body parts of two individuals, with one suspected to belong to Sungkyu himself.
This photography team is known to have worked with numerous celebrities on renowned magazines including Dazed & Confused, ELLE, Nylon, and W Korea, while also working with Brown Eyed Girls, f(x), and SHINee for their album concept images.
The photographer assistant first captioned it "A tiring day.. #INFINITE #Sungkyu #solo #albumjacket #location #yongsan #hangangdaero," but later edited his caption and deleted the hashtags "#solo" and "albumjacket," which were obvious indications that Sungkyu is one step closer to his solo comeback date.
With Sungkyu's increased appearances recently as one of the casts on the news reporting variety program Fluttering India, magazine photoshoot, and his upcoming web drama Love Detective Sherlock K, speculations for his solo comeback to happen very soon have arose.
Sungkyu was reported earlier this week to be preparing for both his solo comeback and INFINITE's comeback concurrently, although it has yet to be revealed if both acts will promote at the same time or if Sungkyu will engage in promotional activities first.
Nevertheless, fans can anticipate a teaser coming up soon as May is nearing, which is the month for INFINITE's comeback.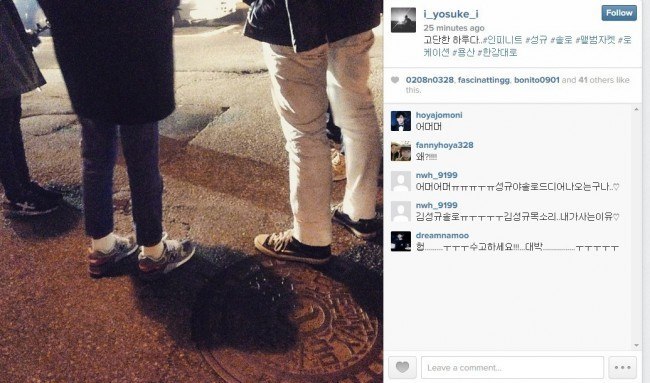 [instagram://1fnvNuhuuW]
Share This Post