IU debuts a bolder look and shorter hairstyle for "Infinity Challenge"
IU is the talk of the town with her shocking transformation as she performed for Infinity Challenge's "Infinity Challenge Festival 2015."
On August 13th, MBC showcased the "Infinity Challenge Festival 2015" at the Pyeongchang Winter Olympic Ski Venue where IU performed with regular cast member, Park Myung Soo. What caught the attention of the fans, however, was the singer's transformation. She was spotted performing with bolder style as she appeared with a shorter hairstyle and paired it with black shorts and fishnet tights.
However, she shocked fans further as she reappeared for another performance with Park Myung Soo, along with G-Dragon, where she exuded a colourful charm with her straight, long black hair.
Joining IU on the event were fellow guests stars G-Dragon, Taeyang, Zion.T and more.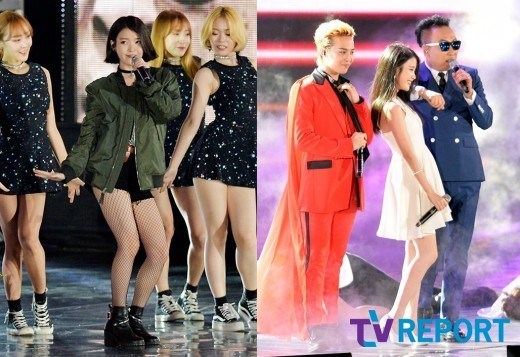 Source: TV Report
Share This Post