IU draws jealously after featuring with Korea's top flower boys in "COSMOPOLITAN Korea"
Singer and actress IU is drawing the envy of fan girls yet again following the official release of the magazine cover for COSMOPOLITAN Korea August 2016 issue.
Next month's magazine issue features two different cover, all featuring the actors of the upcoming and highly anticipated SBS drama Moon Lovers: Scarlet Heart Ryeo (Scarlet Heart henceforth).
One cover features the male and female leads of the drama, Lee Jun Ki and IU. Lee Jun Ki gives a heated and sexy stare as he holds IU in his arms, who gives off an innocent look. In the second cover, the two actors are surrounded by the other flower boy princes of the drama including Kang Ha Neul (as the 8th Prince), Hong Jong Hyun (as the 3rd Prince), EXO's Baekhyun (as the 10th Prince), Nam Joo Hyuk (as the 13th Prince), Ji Soo (as the 14th Prince) and Yoon Sun Woo (as the 9th Prince).
Netizens left comments such as, "Heol, what is this, I'm so jealous of IU," "Wow IU, I'm so envious of her kekekekeke," "Baekhyunㅠㅠㅠㅠㅠㅠㅠ an Imperial Prince ㅠㅠㅠㅠㅠㅠㅠ" "Jieun (IU's real name) ㅜㅜㅜㅜㅜ So pretty, I'm so jealous of the men around you," "Wow, IU, so pretty," and more.
Scarlet Heart follows Hae Soo, a 21st century woman, who is suddenly transported back into the Goryeo Dynasty, and finds herself in a palace surrounded by flower boy princes. The SBS drama is set to premiere on August 29, 2016 every Monday and Tuesday at 10pm KST for 20 episodes. It will also simultaneously be broadcast in China as well.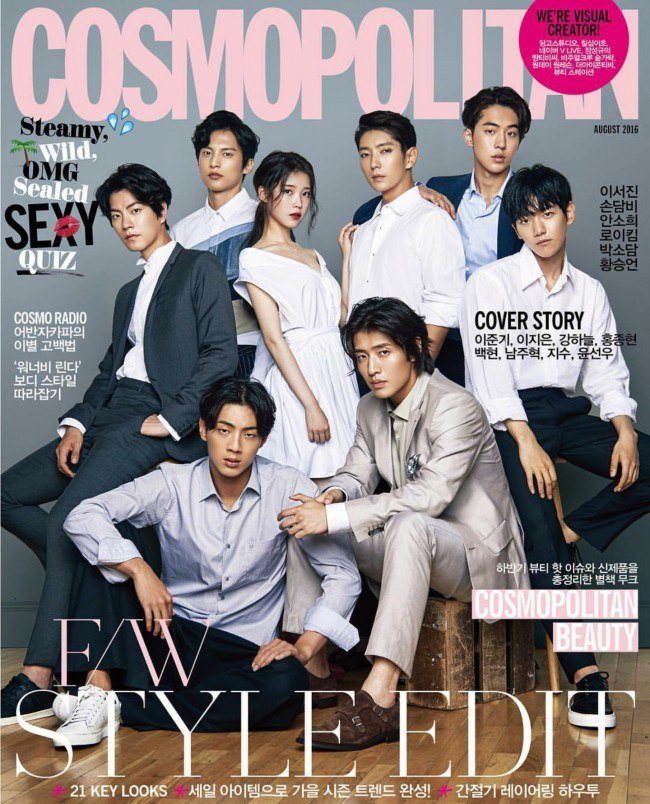 Source: Instiz
Share This Post