IU hits 1 million followers on Twitter!
Congratulations IU on reaching 1 million followers on Twitter! She joins the rank of Korean celebrities such as Super Junior's Siwon and Heechul, PSY, 2AM's Jokwon, 2NE1's Dara, miss A's Min and more, who have previously hit 1 million as well.
Singer, actress and the "Nation's Little Sister" IU was recently promoted from a policeman to Senior Officer for the work she's done as an ambassador for anti-bullying. As her popularity continues to grow, it comes as no surprise that she is the next celebrity to have reached 1 million followers on Twitter.
IU is scheduled to perform at the 2014 Melon Music Award happening November 13th. If you would like to keep updated with IU, follow her on Twitter @lily199iu.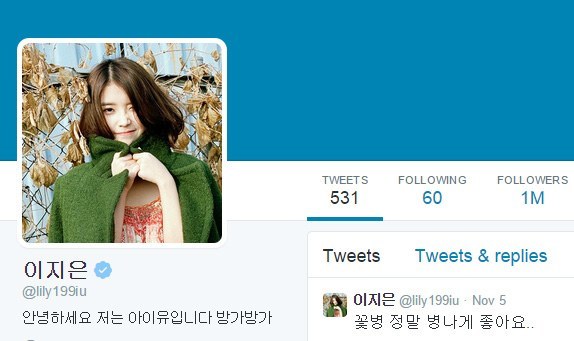 Share This Post