Jeff Bernat thanks 2PM's Jun.K for his success in South Korea
Attending SBS Gayo Daejun in Seoul, South Korea on December 21st, Jeff Bernat sends out a special shoutout for 2PM's Jun.K. 
On December 21st, Jeff Bernat updated his personal Twitter account with a photo of Jun.K. The photo, which was taken backstage at SBS Gayo Daejun, came with a text saying, "Always good to see my brother @Jun2daKAY. I wouldn't be doing my thing in Korea if it wasn't for him. Love you man." Fans who have seen the update commended the two artists for their friendship.
It was noted that Jun.K previously sang a cover of Jeff Bernat's track for KBS A Song For You, which eventually became popular in South Korea. Since then, he has been visiting the country for a number of concerts and guest appearances and has released the track "Be The One" as the soundtrack for the drama, Fated To Love You.
Meanwhile, Jeff Bernat attended SBS Gayo Daejun and performed the track "Call You Mine" with Taeyang.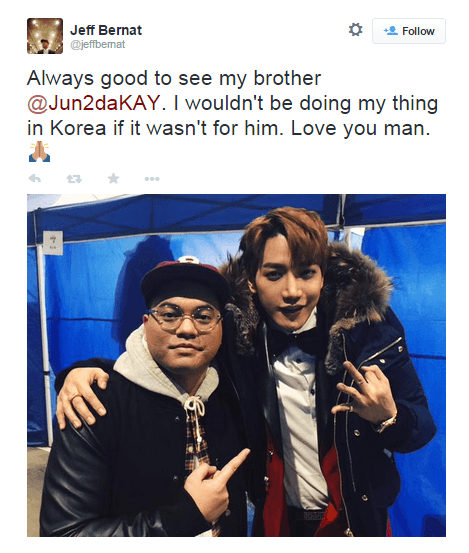 Share This Post