Jessica appears at Lane Crawford event in Shanghai
Earlier today, Jessica Jung was spotted at Lane Crawford's 1st anniversary event in Shanghai. As previously reported, this is her first public appearance since news broke that she had been ousted from K-Pop powerhouse group Girls' Generation earlier last week.
It is also her first appearance as head designer of BLANC & ECLARE, the latter of which was revealed one week after the scandal.
Jessica's attendance at the Lane Crawford event also marks the beginning of her partnership with the store chain, as she will be selling her sunglasses at both the Shanghai and Chengdu locations according to a representative.
A huge partnership like this is BLANC & ECLARE's first step into the Chinese market and after an official announcement last week from Coridel Group and rumored boyfriend Tyler Kwon, the investors of Jessica's company, stated that BLANC & ECLARE was a debt free company. With partnerships like these, it seems like the company is already making big plans for the future.
EXCLUSIVE: Profile on Tyler Kwon, the rumored boyfriend and fiancé of Girls' Generation Jessica
Take a look at some photos taken at the event below! Are you anticipating what Jessica and BLANC & ECLARE will do next?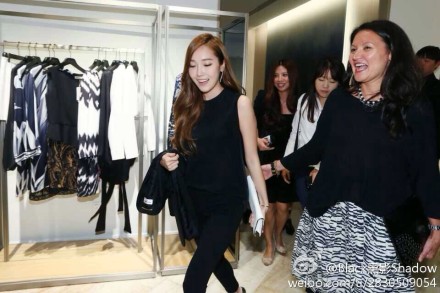 Source: Black Shadow Weibo
Share This Post