Kim Bum Soo unveils track list for album "Him"
With his impending album release, singer Kim Bum Soo has unveiled the track list for his 8th album Him on November 18th. The album is set to be released on November 21st, and Kim Bum Soo has already teased fans by unveiling his album jacket and a teaser music video for his title track "Home Meal." The music video for "Home Meal" is also set to be released on November 21st.
Him contains a total of 12 tracks and a bonus track, and features artists such as G.NA, Swings, Lydia Paek, and Loco among others. Included in the tracklisting are songs like "Home Meal," "Real Man," "CASANOVA," and "In Front of your House". Fans and casual listeners alike are anticipating this album, as Kim Bum Soo's new look and hip hop feel give the artist a new side.
Kim Bum Soo recently held his, Kim Bum Soo Comeback Show on November 14th, and is planning to also hold concerts in Daegu, Kwangju and Busan.
Check out the track list below: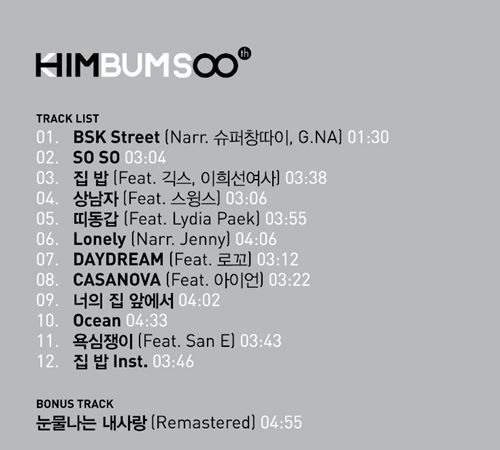 Source: BNT News
Share This Post