Korean Fans FURIOUS Over Awful HATE Messages Left On SISTAR Dasom's Instagram
Fans are furious with the inappropriate and malicious comments made by one netizen on SISTAR's Dasom's Instagram. 
On January 25th, Dasom made a worrying response on Instagram revealing that has had enough with malicious comments for the last six years, which led to Starship Entertainment to seek legal action against the responsible netizen. Although the post has been since deleted, some fans have taken screenshots and have been discussing the top hate aimed towards Dasom.
The original post on Pann, netizens and fans discuss the said comments made on the singer's account under the title, "Isn't Dasom's Instagram a Serious Matter Now?"
Find out what Netizens had to say about this article below!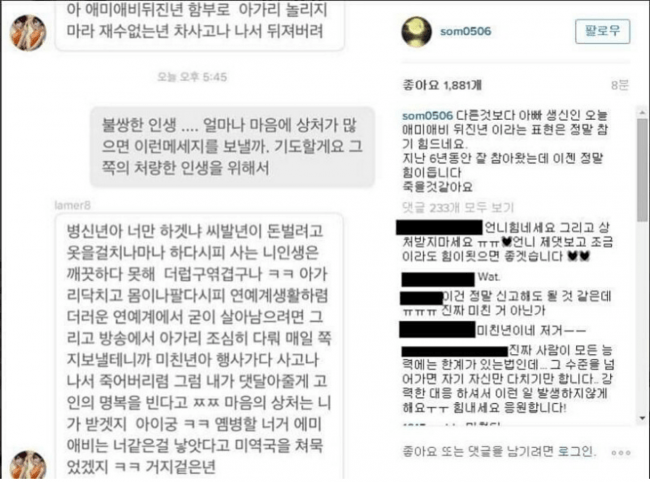 Translation: 
Dasom: "Poor life you have…. How much pain do you have in your heart to send me such messages. I will pray for your poor and disappointing life"
lamer8: "Crazy bitch, I don't have a poor of a life as you do. I find it disgusting that you expose your skin to go on with your life haha Shut you mouth and keep selling your body as a celebrity to survive in the dirty industry you are in. And please watch your mouth in programs because I will send messages to you everyday you crazy bitch. I hope you die by getting in an accident on your way to some festival. I will leave a comment saying rest in peace tsk tsk. The person who has a pain in the heart is you haha. Your parents celebrate your pathetic life tsk tsk. Poor paethic bitch"
Dasom's Instagram:
Dasom: "Other than anything else, It is hard to take people telling my parents to go to hell on my father's birthday. I have been holding back well for the last 6 years but it is really hard for me to hold back any longer. I feel like I'm going to die."
Fans:
"Unni, please feel better and don't be hurt T_T <3 I hope you feel a little bit better reading my comment <3
"wat.
"I think you could really report this T_T_T This is crazy
"That is a crazy bitch –"
"Every human being has their limits.. If they go pass that, they will only get hurt. You have to act upon it in order to prevent this from happening T_T I hope you feel better. I will cheer for you!"
"This was posted on Dasom's Instagram before deleting it but someone sent her that message… To be honest, I was reallly shocked because that isn't something someone should say to one another. I think a celebrity publicly saying she is having a tough time and feels like dying, it feels that she is really hurt… I feel sympathy for her.. This is why being a celebrity is difficult.. How can that brainless bitch say such a thing"

---
NETIZEN REACTIONS
Koreaboo has collected reactions from Netizens who commented on the original article from our Korean source. The below comments are the most popular comments at the time of this article being published.
---
[ +105 / -3] That person needs to be sued haha She shouldn't go easy on her. How can she insult her parents T_T
[ +100 / -3] I was shocked too watching this.. Wow.. how can they say parentless bitch.. Does she have a brain
[ +65 / -5] You have to publicly announce their identities… They will act all innocent in real life.. and pretend they are norma.. it gives me goosebumps really.
Source: Pann
Share This Post