Kyuhyun talks about Red Velvet's Seulgi on MBC "Section TV Entertainment News"
What happened once upon a time, between Super Junior's Kyuhyun and Red Velvet's Seulgi? On MBC Section TV Entertainment News Kyuhyun talked about the "scandals" between him and Seulgi during the interview.
On the November 16th airing of MBC Section TV Entertainment News, Kyuhyun, who revealed his first solo album, also talked about the stories behind some of his "scandals" with Red Velvet's Seulgi.
Kyuhyun said, "These days I can't even talk to her naturally. Whatever I am trying to say people's eyes are bent on us, so I guess that's why we are in a distance now."
The scandal between Kyuhyun and Seulgi stemmed from an incident about year ago on MBC Radio Star, when Kyuhyun mentioned Seulgi, who was then a trainee of SM Entertainment. In that episode of Radio Star, broadcasted on August 21st last year, Kyuhyun showed some special interest toward her.
On that day Kyuhyun told the other panels including Kim Gura and f(x)'s Sulli and Krystal, "Honestly I don't really like popular stars. They are pretty but I am not really attracted to them." To that Kim Gura said, "I think you like the trainees," making Kyuhyun embarrassed.
Sulli and Krystal continued prodding and drove him into an embarrassing situation by mentioning the name, Seulgi. According to f(x) members, Seulgi was nice, cute, and good at singing. Due to such a clamor from the panels Kyuhyun sent Seulgi a message, "Hey Seulgi. Do well on training and I wish you to succeed. I will cheer for you."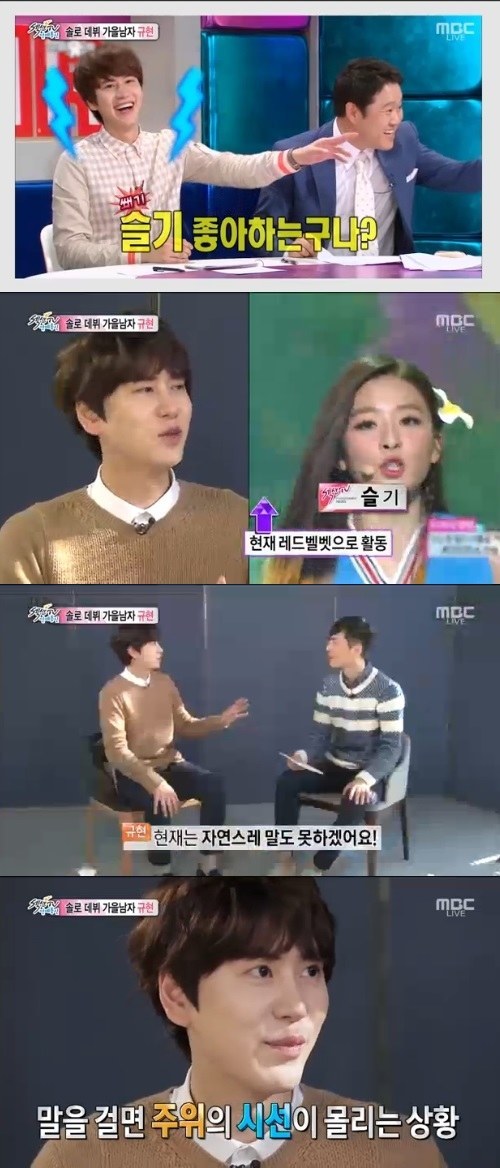 Source: Sports Daily
Share This Post