Kyuhyun trends worldwide after release of debut album "At Gwanghwamun"
On November 13th, Kyuhyun's debut mini-album At Gwanghwamun was released. Soon after it received an all-kill and even trended worldwide!
Kyuhyun not only trended at the number 1 spot but also at the number 6 spot worldwide on Twitter, with #KyuhyunALLKILL and #At Gwanghwamun. This debut mini-album was highly anticipated after SM Entertainment announced that Kyuhyun would be it's next male solo artist.
Throughout the first two weeks of November, Kyuhyun released a series of image, audio, and video teasers, giving fans a sneak peek into the album and further increasing anticipation. Prior to the release of the album SM Entertainment also released a medley of the mini-album, getting fans more acquainted with it.
The music video for "At Gwanghwamun" has also been released and Kyuhyun also held his autumn concert at at Yes24 Muv Hall in Mapo-gu on November 13th.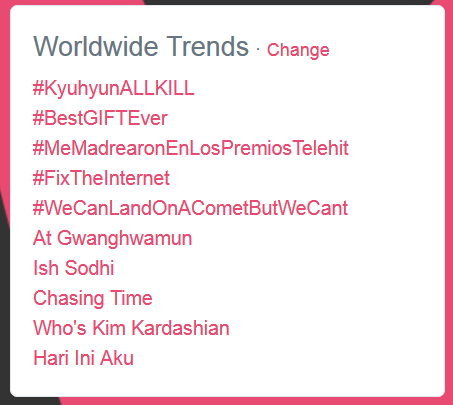 Share This Post