Li Chen receives 22 stitches after brawl with Kim Jong Kook on "Hurry Up, Brother"
During the China-Korea collaboration episode of the Chinese edition of Running Man, aptly titled Hurry Up, Brother, actor Li Chen was injured after a brawl with Kim Jong Kook and had to receive 22 stitches.
Recently, the cast of Running Man appeared on the debut episode of its Chinese adaption Hurry Up, Brother to demonstrate their support and good wishes for the show as it begins its run in China.
The episode was full of the mini-games, crazy antics, and witty banter that the viewers of Running Man are familiar with. Of course, no adaption of the popular variety show would be complete without a good round of name tag ripping. However, during this portion of the show, Li Chen (better known as Jerry Lee) faced off with "Commander" Kim Jong Kook! During their brawl, Li Chen fell and suffered a small blow to the head. In order to close the wound, he was sent to the hospital and received 22 stitches.
Viewers first began to show concern when Li Chen was not present during the last few minutes of broadcast. Li Chen took directly to his Weibo saying, "The purpose of the show is to entertain and bring happiness through our collaboration so some portions had to be left out." To ease fans worries, he further reassures, "I have completely healed. It has been two months since the incident." In addition he writes that it is a step to making dreams a reality (speaking about creating a successful adaption) and that as an adaption, the two shows support each other fully.
In his Weibo post, he included a photo of a doctor closing the wound and another photo with the Korean Running Man cast who paid him a visit. In the photo, he is all smiles and gives a thumbs up although there is a bandage across his forehead. Everyone seems to be in good spirits about the incident, easing fan's worries of any bad blood that may have ensued from the incident.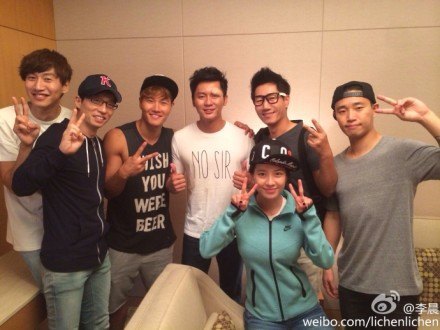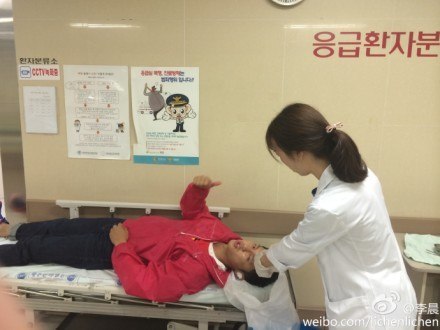 Share This Post