Luhan responds to rumors of being a father
On July 9th, Luhan's studio made an official statement via Weibo regarding recent rumors of his being a father.
It was recently spread by a gossip chat on WeChat that a young Korean group member would be returning to China to promote, notably a popular Mr. L who will be a father soon, having already performed necessary paperwork in March.
Many followers quickly noted that this rumor seemed to be directed at Luhan while his studio quickly released a statement of denial, stating that this was nothing more than a malicious rumor and hoping for the statement to be erased and an apology be made. The studio shared there was no "Korean girlfriend" to speak of, nonetheless a marriage and child.
The gossip chat allegedly revealed that the Mr. L in question had a girlfriend who was still in college in Korea. While Mr. L was in Korea, he even sent her roses. When he went to Nanjing for an event, he was spotted by a fan interacting intimately with said girlfriend. Others even reported that the two held hands while shopping in the streets of Hong Kong. Furthermore, the girl's birthday is said to be on March 1st with the two having completed their marriage paperwork in March as well.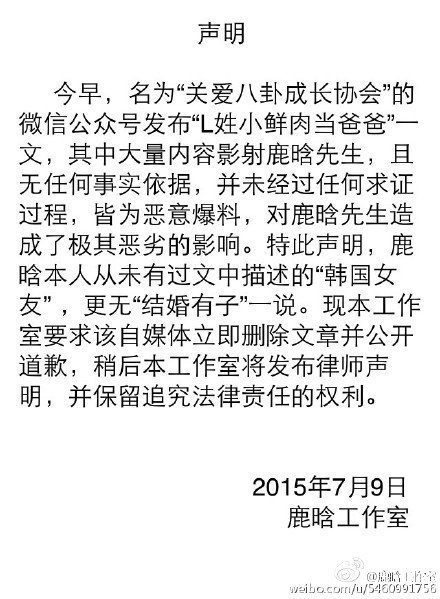 Source: Luhan's Studio's Weibo and Sina
Share This Post