MAMAMOO unveils full tracklist to upcoming album, "Melting"
The full tracklist to MAMAMOO's upcoming studio album Melting is out!
On February 17th, the tracklist was shared via their SNS accounts, revealing more information about their 12-track album. Of course, it includes their pre-release songs "Pride of 1cm (Taller Than You)" and "I Miss You," as well as their title track "넌is뭔들‬ (Neon is Mwodeul)(You Is/Are Whatever)." Additionally, it shares just how much participation MAMAMOO has taken part in the album with many of the songs co-written by the members as well as how much of the work was done in-house.
Melting will be released on February 26th.
01. Pride of 1Cm
Composed by Kim Do Hoon (RBW)
Lyrics by Kim Do Hoon (RBW), Moonbyul, Solar, Hwasa
Arranged by Kim Do Hoon (RBW), Park Woo Sang (RBW)
02. Words Dont Come Easy
Composed by Kim Do Hoon (RBW), Park Woo Sang (RBW)
Lyrics by Kim Do Hoon (RBW), Park Woo Sang (RBW), eSNA
Arranged by Park Woo Sang
03. You Is/Are Whatever
Composed by Kim Do Hoon(RBW), Duble Sidekick
Lyrics by Kim Do Hoon(RBW), Moonbyul, Solar
Arranged by Kim Do Hoon (RBW)
04. Friday Night ft. Junggigo
Composed by Park Woo Sung (RBW)
Lyrics by Park Woo Sung (RBW), Moonbyul
Arranged by Park Woo Sung (RBW)
05. Hometown
Composed by Kim Do Hoon (RBW), Solar
Lyrics by Kim Do Hoon (RBW), Solar, Moonbyul, Wheein, Hwasa
Arranged by Kim Do Hoon (RBW)
06. Emotion
Composed by Cosmic Sound (RBW), Cosmos
Lyrics by Cosmic Sound (RBW), Cosmos, Moonbyul
Arranged by Cosmic Sound (RBW), Cosmic, Kang Min Hoon
07. I Miss You
Composed by Kim Do Hoon (RBW)
Lyrics by Yoon Hye Joo
Arranged by Park Woo Sang (RBW)
08. Funky Boy
Composed by DanielPalm, Ellen Berg Tollbom
Lyrics by Yoon Hye Joo
Arranged by Park Woo Sang (RBW)
09. My Recipe
Composed by Kim Do Hoon (RBW), Park Woo Sang (RBW), Solar
Lyrics by Solar, Hwasa, Moonbyul, Park Woo Sang (RBW)
Arranged by Kim Do Hoon (RBW), Park Woo Sang (RBW)
10. Cat Fight
Composed by Lee Hoo Sang (RBW), S2REN
Lyrics by Hwang Yoo Bin, Lee Hoo Sang (RBW), Moonbyul
Arranged by Lee Hoo Sang (RBW)
11. Just
Composed, Lyrics, Arranged by by Park Woo Sang (RBW)
12. Girl Crush
Composed by Park Woo Sang (RBW)
Lyrics by Jang Yoon Seo, Park Woo Sang (RBW)
Arranged by Park Woo Sang (RBW)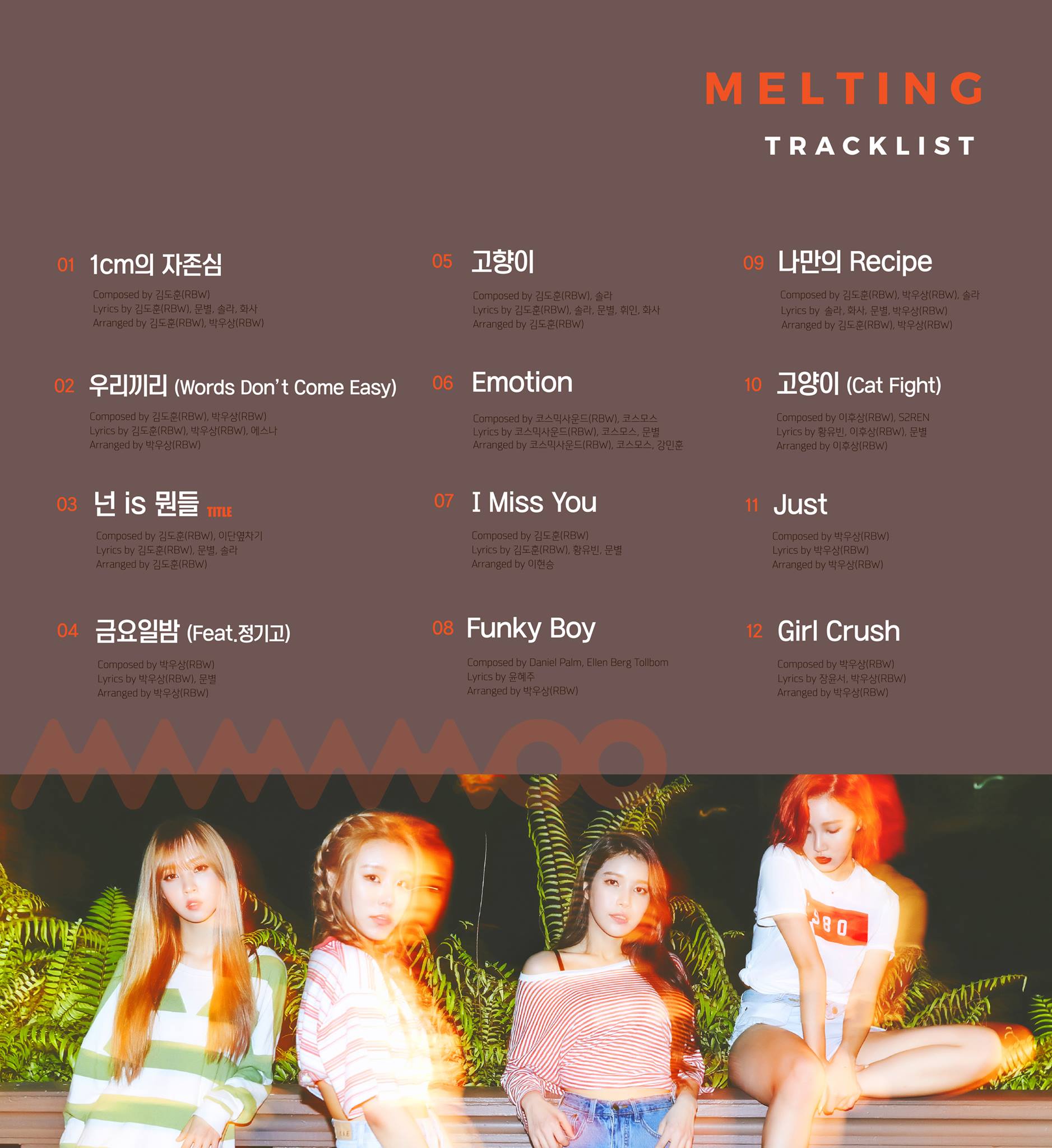 Share This Post