Min Hyorin talks about her first kiss on "Happy Together"
Actress Min Hyorin talked about her first kiss and pre-debut experience in the recent Happy Together 3 episode.
The theme of the recent KBS2 Happy Together 3 episode was about discussing past stories and events. As a guest on the show, Min Hyorin was very honest and witty in responding to the discussions.
Min Hyorin openly confessed that, "I had my first kiss during my last year in high school." She continued to share about her first kiss experience and said, "Because it happened during my student days, I wasn't in a situation to kiss inside a car… So I had my first kiss at the playground in front of my house at night." Min Hyorin received positive responses from the other participants on the show after listening to her story.
Min Hyorin not only shared about her first kiss, but about her pre-debut days as well. The actress revealed, "When I was going to debut, my company said I look like Lee Hyori so my stage name should be 'Lee Hyorin.' However, I strongly opposed the idea and I eventually changed my last name and debuted as Min Hyorin."
Netizens left responses saying, "Min Hyorin's first kiss makes my heart flutter," "Min Hyorin is cute," "Min Hyorin is honest," and "Min Hyorin, Taeyang will be jealous if he finds out."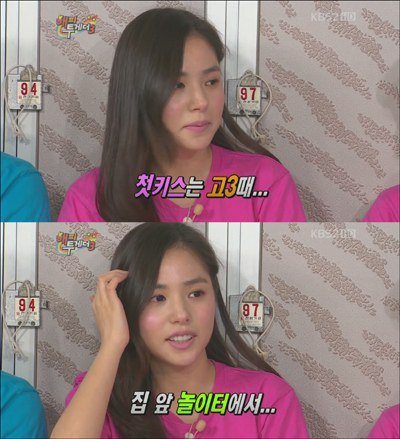 Source: Hankooki
Share This Post