Model actor Ahn Jae Hyun has been suggested plastic surgery multiple times
Model-turned-actor Ahn Jae Hyun has revealed that over the course of his career, he has been suggested getting plastic surgery from several different modelling agencies.
On October 30th, model actor Ahn Jae Hyun appeared on KBS Happy Together: Season 3 and talked about the process he has gone through in order to be where he is at today.
When the Happy Together: Season 3 hosts asked the star, "Was becoming a model a lifelong dream of yours?" Ahn Jae Hyun responded, "No, I wanted to be in some kind of a business."
The model actor explained, "My dream was to be an awesome dad, a wealthy father," he continued, "I was once involved in a car accident which led me to being hospitalized. As I was laying in the hospital bed, I thought about my future."
Ahn Jae Hyun revealed that after being discharged from the hospital, he went to search for modelling academies and agencies.
The star went on, "I was denied for being ugly, though. I was even suggested getting plastic surgery numerous times. But after failing the academy auditions, I entered a modelling contest and won first place."
This episode of Happy Together: Season 3 also starred Joo Won, Shin Joo Hwan, Kim Nayoung, Kim Ji Min, and Hong Suk Cheon for a special episode theme of "Fashion People".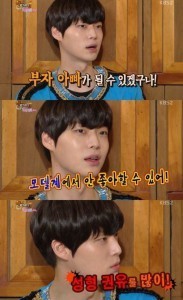 Source: OSEN
Share This Post