Monday Couple is sweet as ever behind the scenes of "Running Man"
The Running Man Members Special, 24 Hours Unanimity Race special episode aired on October 4th and the Running Man staff revealed a screenshot of a surprising image that occurred off-camera.
On October 2nd, the Running Man staff shared a behind the scenes photo from their most recent episode. The photo is titled, "Running Man Warming Up," and it reveals some of the members holding pink towels. After the Running Man members were attacked by a mob with water guns as a punishment, they were handed towels to dry off to avoid catching a cold.
While the all the other members were being drenched by water guns, Gary stayed hidden during the main attack. After the attack, Gary immediately went to help Song Ji Hyo after receiving his towel despite having been a little attacked himself.
A spectator on set commented, "We prepared dry towels to hand to the members because of the chance of catching colds, but Gary went straight to help take care of Ji Hyo frugally with the small towel. The staff members were surprised when Gary revealed his cool side while taking care of Ji Hyo, before wiping his own face dripping with water."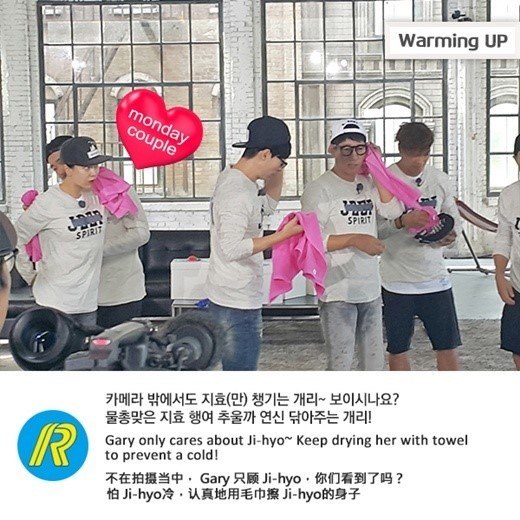 Source: Mydaily
Share This Post