Netizens Back At It Again, Discover "VULGAR ILJIN" SNS Posts From IOI Kim Sohye's Past
Netizens discuss further evidence of Kim Sohye's alleged 'iljin' past
Earlier, we reported that Kim Sohye was being criticized for her alleged 'iljin' or bully past through evidence of her SNS accounts. Although she has been able to connect with fans through program "Produce 101," could she have lot many fans through these alleged rumors?
Originally posted on Pann, netizens discuss Kim Sohye's alleged 'iljin' past with further evidence.
Titled "Another Photo of Kim Sohye's Past," here is the direct translation of the post and comments below.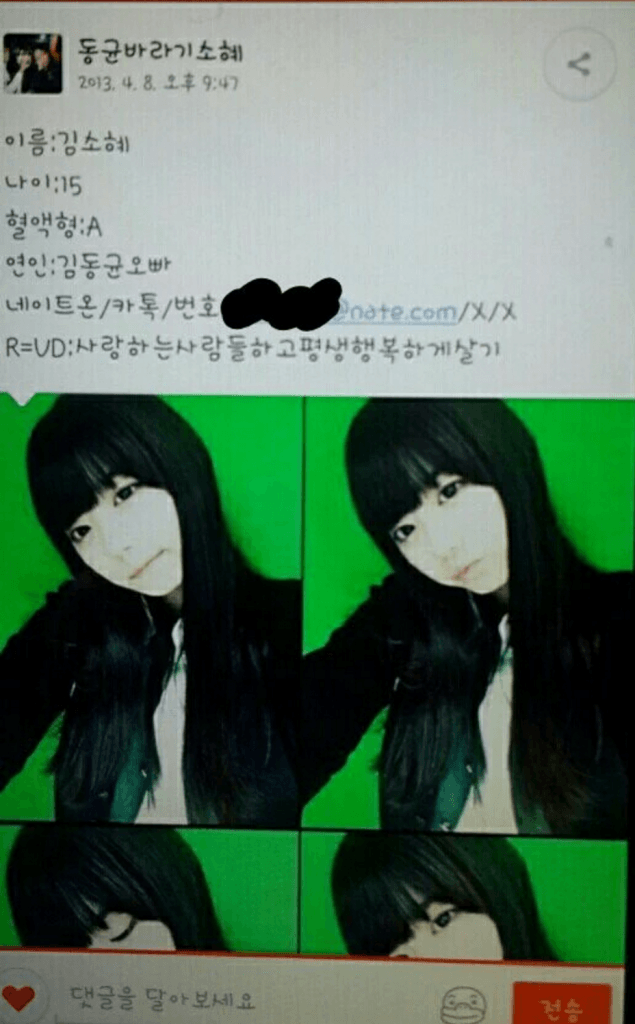 "Dong Gyun Lover Sohye: 
Name: Kim Sohye
Age: 15
Blood type: A
Boyfriend: Kim Dong Gyun
Nate On / Kakao / Number : ——
To live happily with people I love.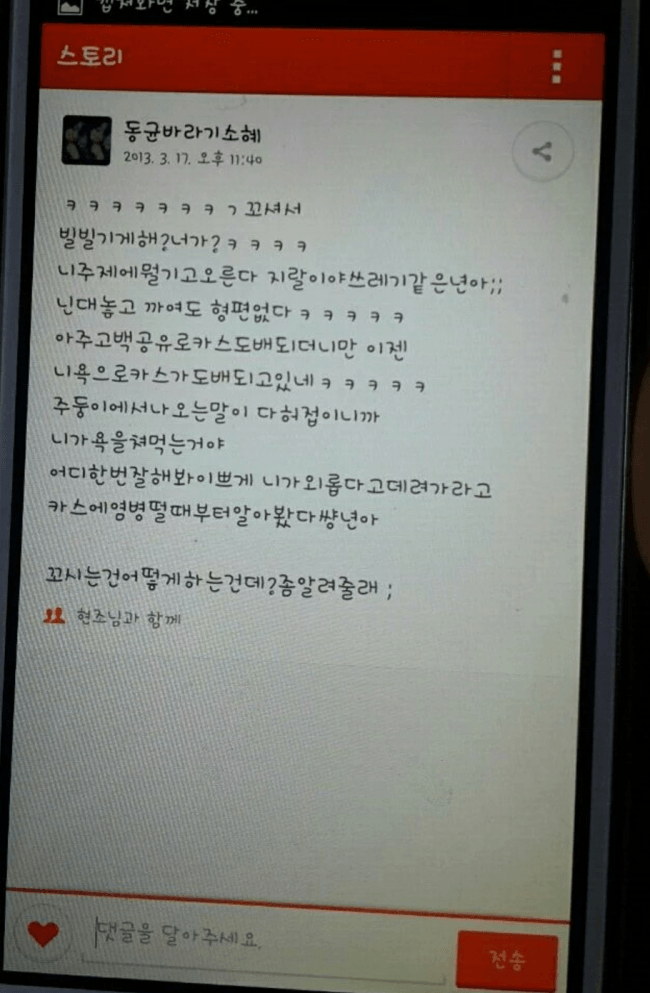 Dong Gyun Lover Kim Sohye:
'Hahahahahahaahaa You're saying you're going to
try to seduce him and make him crawl on the ground? You? hahahahaah
You f*cking trash b*tch, you are annoying me without knowing how low life you are;;
You deserve to be publicly shamed hahahaha
Kakao Story was flooded with the shares of your confession but now
it is being flooded with criticism towards you hahahahahaha
It is because what comes out of your mouth is all bullsh*t
That is why you are being cussed at.
Good luck trying to be pretty. I knew it the second you were claiming that
you were lonely and trying to tell him to pick you up you f*cking b*tch.
How do you seduce someone huh? Please let me know as well;
Hahahaha another post of what Kim Sohye said in the past. hahahaahah Kim Sohye is amazing in different ways really."

---
NETIZEN REACTIONS
Koreaboo has collected reactions from Netizens who commented on the original article from our Korean source. The below comments are the most popular comments at the time of this article being published.
---
[ +110 / -6] I could just tell by the way Kim Sohye speaks that I know for a fact that her hobby is not to pick up trash like she claimed
[ +109 / -60] The first photo isn't a problem since it was with her boyfriend right? But I guess the girl tried to steal Kim Sohye's boyfriend. I'm not trying to protect her but I guess that girl deserved it?
[ +92 / -15] Kim Sohye fans claiming that this was fake rumor and post? hahahaahahahahahahaha Who said that? Don't make up stories to protect your girl
Source: Pann
Share This Post