Netizens continue to criticize IU after reading her revised lyrics
After reading solo singer IU's revised lyrics for her song "Red Queen," netizens continued to criticize the singer. 
Because the song was originally a duet between herself and singer Zion.T, the LOEN Entertainment singer changed the lyrics in order to fit a solo song for her concert performance. However, IU changed the lyrics in a way that directly responded to her anti-fans, causing the very same people to respond with backlash.
The singer originally came under fire for accusations of sexualizing a young boy through the lyrics of her song "Zeze." Despite responding to claims and explaining her lyrics, however, anti-fans have continued to criticize IU and have even accused the singer of using a lolita concept for her latest album CHAT-SHIRE. However, IU is continuing on with her promotions for CHAT-SHIRE, and is currently on her domestic tour. A translation of the revised lyrics of "Red Queen" can be found below:
Find out what Netizens had to say about this article below!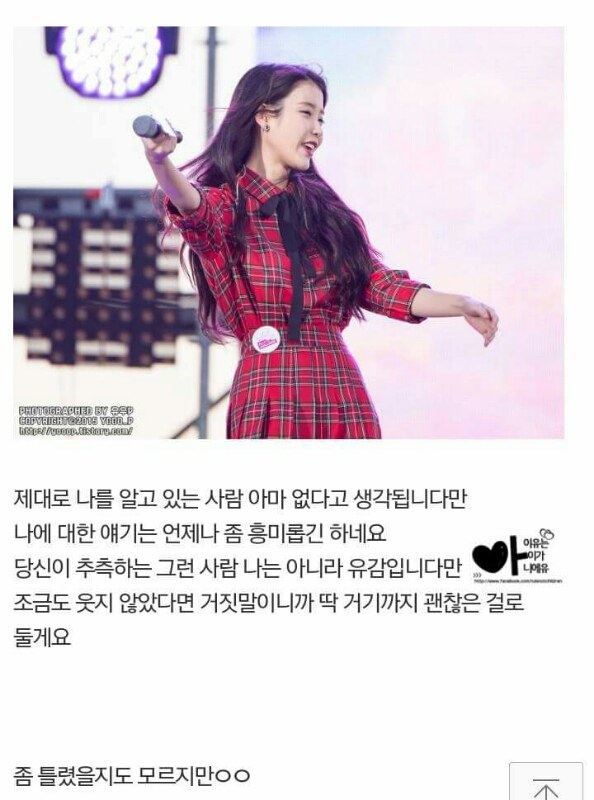 "I think no one knows me correctly, but the talks about me are always intriguing. It's a pity that your predictions about me aren't true, but it'd be a lie to say I didn't laugh, so I'll say it's fine."
---
NETIZEN REACTIONS
Koreaboo has collected reactions from Netizens who commented on the original article from our Korean source. The below comments are the most popular comments at the time of this article being published.
---
[+ 798, – 64] She sang Zeze on this tour. That says enough doesn't it? Let's stop paying attention I feel like she's going to do something huge again soon. And this time even her fans will leave her
[+ 649, – 117] ㅋㅋㅋㅋㅋㅋㅋㅋㅋㅋㅋㅋㅋ So funny ㅋㅋㅋㅋ she pays so much attention to antis. It's so fun I can't stop being her anti. Hey IU we should all meet up one of these days. So addictive
[+ 580, – 20] "It's a pitty that your predictions about me aren't true"
[+ 330, – 2] Why does she keep instigating things..I don't get it…she may think she's being witty and sly but to me she just looks really immature.
Source: Pann
Share This Post