Netizens DISGUSTED By Korean Man Who Raped His Dog And Posted The Video To Facebook
Netizens have been outraged at recent Facebook post of a Korean man raping his dog.
Facebook has been a place for content whenever and wherever we are with a smartphone or a laptop. But with so many users all over the world, there has been no way to prevent all inappropriate content from being uploaded and their proliferation over the web. Though Facebook has been trying to monitor and deal with them fast as possible, it is still difficult to monitor billions of posts at such a rapidly growing rate. Thus, one such post that made it to Facebook has been scorned as of late by netizens globally.
Earlier today, thousands of people were exposed to a video of a Korean male raping his dog which has since been deleted.
Originally posted on Pann, netizens are furious toward a Korean male who posted a video of himself raping his own dog.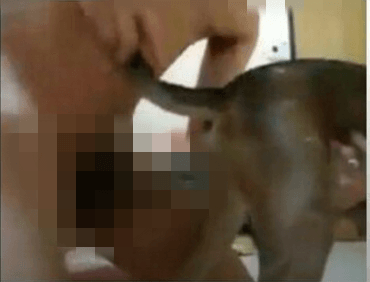 Titled "Facebook Dog Rape Video," here is the direct translation of the post and comments below.
"Have you guys seen the dog rape video that was on Facebook?
(That filthy trash was raping his female dog….)
I know the link to it but since there are younger viewers here, I won't post it.
If you know the man in the video, please let me know.
I have let 3 different animal rights committees know about the situation and I will be reporting it to the press once more information regarding this is known.
I know there are people who may think I'm overreacting but I'll ignore them.
Please spread this so that more people can see it.
Please help me if you know anything regarding this.
+++ (edited)
I wrote this right away when I was shocked but thank you for making this a top post.
I'm still trying to collect evidence because I heard news media will only report it once there is evidence..
They can't just report 'A Man Raped His Dog!!' or something like that…
That is why I can't report it right now.
The animal rights committees notified me that they are trying to find the original video through
cyber investigation committees and will let me know what happens.
Another committee notified me that they have turned it over to the animal abuse legal department.
I also let the program 'Animal Farm' know but they already knew after so many people reported it to them..
I'll let you all know what happens once I get to know anything.
Thank you for your attention and support."

---
NETIZEN REACTIONS
Koreaboo has collected reactions from Netizens who commented on the original article from our Korean source. The below comments are the most popular comments at the time of this article being published.
---
[ +186 / 0] I was speechless.. I wanted to throw up… There are crazy people who does that to their dogs.. When I saw the comments, I wished there were more strict laws regarding animal abuse. I am so angry.. I really wanted to cut their dicks off
[ +172 / -6] I heard they are ilbe members (T/n: Korean 4chan). On Facebook, there is even evidence linking them to this incident. I really hope they get arrested quickly. And I hope there are laws certain perverts can't own pets. I'm angry.
[ +147 / -3] I heard the account was Kwak Deuk Jin haha I found it Haha Facebook Kwak Deuk Jin
Source: Pann
Share This Post