Netizens mock Chorong for spelling error
Many Korean celebrities have been showing their support for Paris in the aftermath of the horrible act of terror, but Apink's Chorong has been receiving criticism for her post. 
To show her support for the victims of the tragic event, the A Cube Entertainment singer shared the now symbolic mash-up of the peace sign and the Eiffel Tower representing solidarity with Paris. While she tried to use the popular line "Pray for Paris," however, the Apink member mispelled the word "pray," and instead wrote the word "play," causing many netizens to mock her mispelling.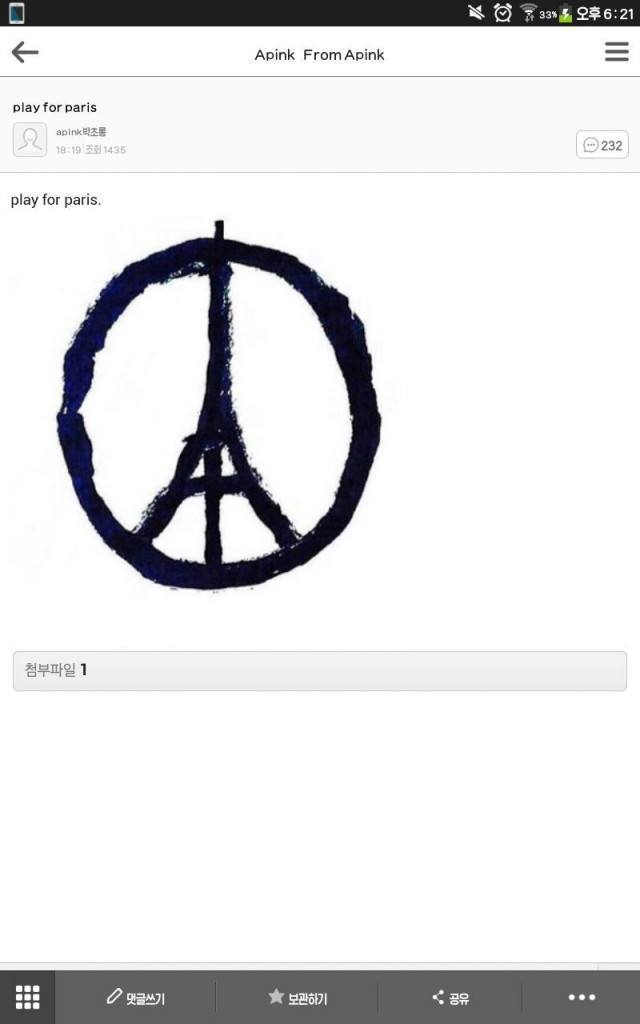 ---
NETIZEN REACTIONS
Koreaboo has collected reactions from Netizens who commented on the original article from our Korean source. The below comments are the most popular comments at the time of this article being published.
---
[+ 198, – 38] I honestly like her a lot but this was very disappointing…if the mistake was just in the title or in the text ….but they're both play…..for a commemoration post… This is really a huge mistake…
[+ 161, – 42] It's "PRAY FOR PARIS" for those who lost their lives during the attack. How did she not know what she was doing? Did she do this on  purpose??? How could this be a mistake.
[+ 150, – 37] If it really is a mistake shouldn't either one of the text or the title have the right spelling? She made the same "mistake" twice?
[+ 26, – 37] Of Course it's a mistake you dumbasses ㅋㅋㅋ She fixed the mistake right away and she was sick for 2 weeks. It's crazy that she even thought of posting this how can you guys bitch at her for making a spelling mistake in ENGLISH. Jesus you must all be such scholars
 Source: Pann
Share This Post