Netizens mock Kang Dong Won's "granny coat" at recent red carpet event
It is the attack of the stylist once more as Kang Dong Won braves a red carpet event with what the press and fans called as the "granny coat." 
On January 28th, Kang Dong Won attended a red carpet event for the movie A Violent Prosecutor at the Yeongdeungpo Times Square in Seoul, South Korea. However, despite his support for the film and its cast, netizens cannot help but comment on his unusual fashion once more.
He was seen wearing a long, embroidered cream coat, paired with top and tie made from the same fabric, raising eyebrows over his bold fashion sense. The outfit eventually left some to comment how his stylist managed to make him look unattractive each time comparing it to the time when he was asked to wear black high boots. 
Meanwhile, Kang Dong Won was at the event to support the film A Violent Prosecutor, a project about a prosecutor famous of his tough investigations who gets framed for murder. The film features Hwang Jung Min and is set to be released on February 4th.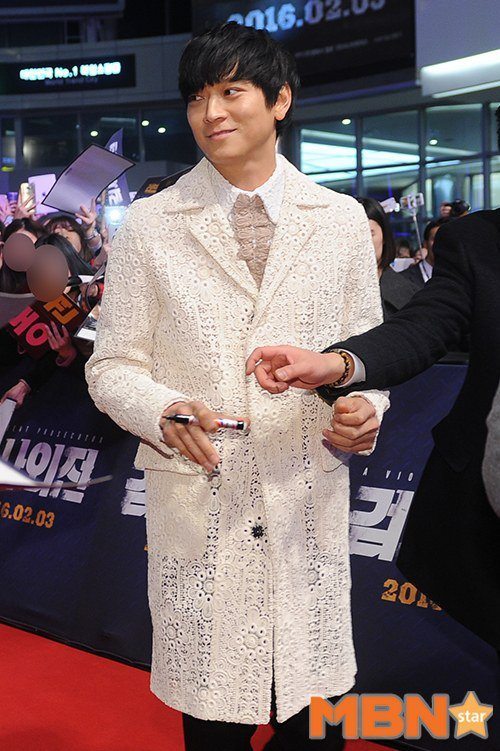 ---
NETIZEN REACTIONS
Koreaboo has collected reactions from Netizens who commented on the original article from our Korean source. The below comments are the most popular comments at the time of this article being published.
---
[+ 1401, – 11] His stylist needs to cut his/her own pay at this point
[+ 1079, – 37] Man the 3 easiest jobs in the world
1. UFC champion's body guard
2. Kang Dong Won's stylist
3. Barcellona's goal keeper
[+ 770, – 25] I was going to say he looks good in anything but….this is a little ㅋㅋ
[+ 71, – 1] I feel like the stylist experimenting just how much his visuals can cover
[+ 60, – 1] His stylist is definitely not normal if he/she is finding those styles of clothes
[+ 52, -1] He really does wear whatever the stylist gives him…
Source: MBNTV
Share This Post