Netizens retract false rumours linking G-Dragon and Taeyeon
Netizens are getting worried after a rumour about BIGBANG's G-Dragon and Girls' Generation's Taeyeon allegedly dating. 
On October 28th, a post on Pann highlighted these rumours after the original post was traced back to an update on DC Gallery. After being traced, netizens expressed their worry to be held responsible for the blind item that got out of hand online.
The original blind item involving a girl group member dating a member of a top boy group. The two artists involved in the item were further described to be veterans of the industry but were only known to be politely exchanging greetings whenever they meet. According to insiders, the two were introduced by friends and eventually got close.
The post further detailed the previous relationships of the two artists with the girl group member having just broken up with a fellow artist, while the boy group member has just resurfaced from a vaguely public relationship.
As the blind item widely circulated, many of the original commenters along with the actual post since deleted.
SM Entertainment and YG Entertainment are yet to comment about this incident.
Find out what Netizens had to say about this article below!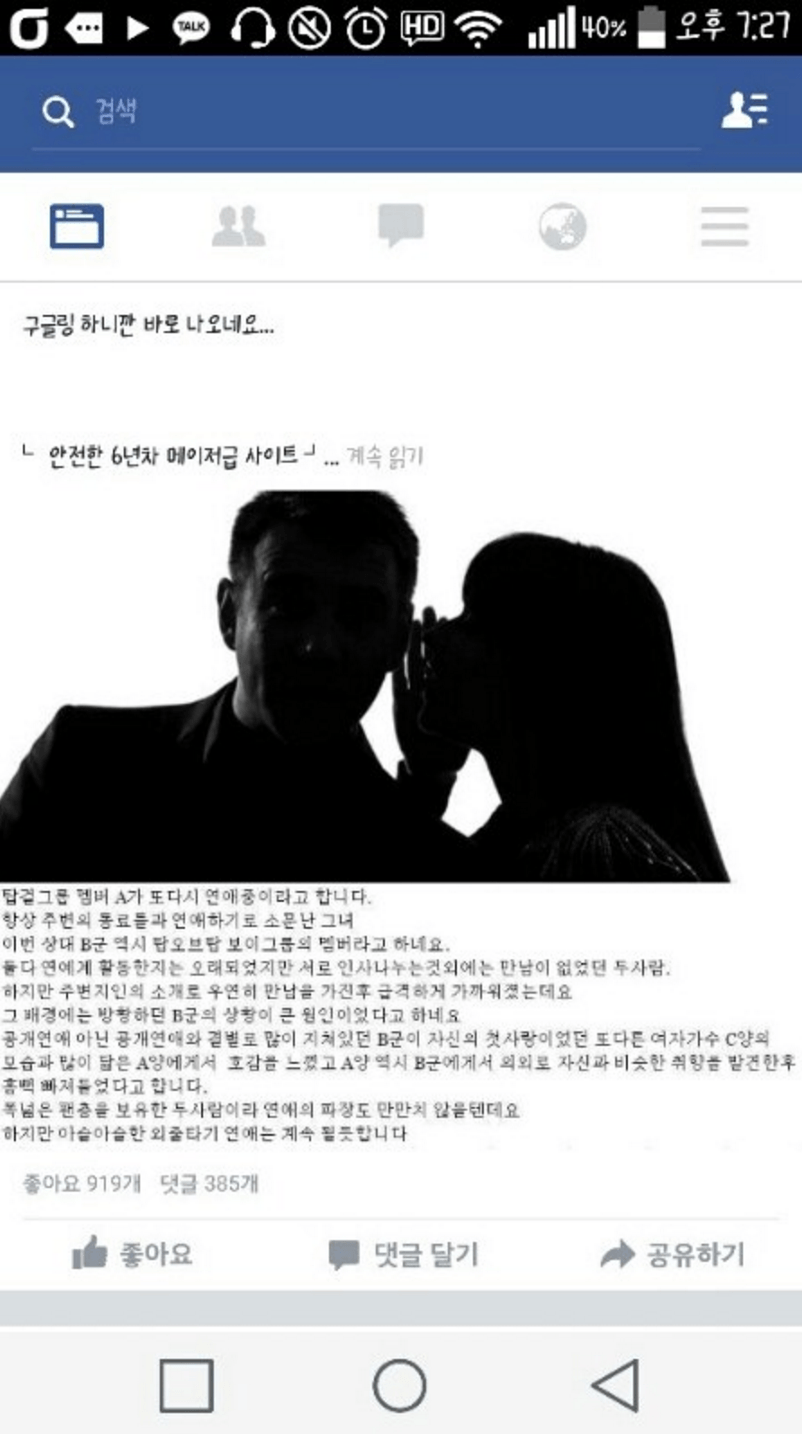 "Top girl group member A is in another relationship. She was always rumored to be romantically involved with colleagues in her industry. This time her boyfriend is said to be B from the biggest boy group. They are both veterans but their only interaction was polite greetings. However, after a recent introduction through a mutual friend, they rapidly became close. The biggest reason was B's recent situation. He was exhausted from a pretty much public dating and break up. B found A similar to C (another female singer who was his first love) and A fell for B as she discovered he had many similarities with her. They both have such a large fan base that this news will probably cause more than a ripple but the two seem adamant in continuing their relationship"
---
NETIZEN REACTIONS
Koreaboo has collected reactions from Netizens who commented on the original article from our Korean source. The below comments are the most popular comments at the time of this article being published.
---
[+ 185, – 16] WHAT WHAT WHAT ..?!!!! I'm a VIP and although this is 90% a rumor I wouldn't mind. She's better than Kiko.
[+ 123, -11] Hey this is a rumor. This came from DC Gallery and a post already explained how dumb this is
[+ 104, – 15] B sounds like GD but A is probably not Taeyeon.
Source: Pann
Share This Post