Netizens vote on what celebrity tutor they would like to have
On July 7th, users on Nate voted on which Korean celebrity they'd like as a tutor to learn their relevant skills from.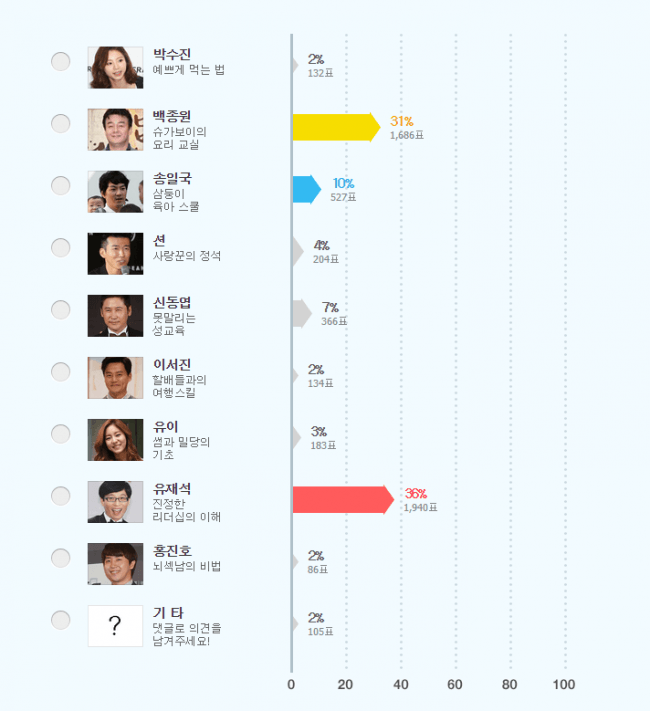 Yoo Jae Suk took first place as a leadership tutor with 36% of the user votes, with Baek Jongwon in a close second as a culinary tutor at 31%. The rest of the celebrities trailed far behind with Song Il Kook taking third place at 10%, and Shin Dongyup taking fourth as a sex-ed tutor.
The full results were as follows:
Park Soojin (How to look pretty while eating) – 2% (132 votes)
Baek Jongwon (Sugar Boy's Cooking Class) – 31% (1686 votes)
Song Il Kook (How to raise triplets) – 10% (527 votes)
Sean (How to love right) – 4% (204 votes)
Shin Dongyup (Sex-ed) – 7% (366 votes)
Lee Seojin (How to travel with grandpas) – 2% (134 votes)
Uee (Basic tutorial on flirting) – 3% (183 votes)
Yoo Jae Suk  (Understanding true leadership) – 36% (1940 votes)
Hong Jinho (The secret to a sexy brain) – 2% (86 votes)
Others (Leave your opinion in the comments!) – 2% (105 votes)
[+ 130, – 23] Choiza's…..nvm. I want to learn from Choiza
[+ 74, – 3] I want politicians to teach me how to steal and make money while doing nothing and relaxing
[+ 63, – 4] This is the weirdest poll so farㅋ. Why did they do this? ㅋ
Source: Nate Poll
Share This Post