[★VIDEO] Niel receives natural mud facemask on "Running Man"
TEEN TOP's upcoming solo artist Niel became one with mud at one of the game sessions on SBS variety show Running Man!
February 8th's broadcast of Running Man invited special guests for their idol episode, including members who are promoting solo and in sub-units. The theme for this episode was named a "greed special" instead of an "idol special" since groups were asked to accumulate gold bars, as the guests were chosen as greedy individuals for variety shows.
One of the games was held at the mudflats, but after a round of games ended, Yoo Jae Suk pointed out that Niel's face was too clean, even cleaner than girl group member Girl's Day's Sojin. Fellow teammates from the blue group, Kwang Soo and Ji Suk Jin, then gave a helping hand as Niel fell flat on his face towards the mud floor. He followed up with a perfect slapstick comedy, as he later fell backwards, creating a domino effect with Kwangsoo falling in as well. As a result, Niel gained a new nickname for himself, the "mud fairy."
Other K-Pop idols who were also in the special idol episode include Girl's Day's Sojin, Super Junior's Ryeowook, BEAST's Dongwoon, INFINITE's Dongwoo, 4minute's Sohyun, Eric Nam, BTOB's Minhyuk, and VIXX's N.
Ryeowook also shared a team photo at a meal break on his personal Twitter, while everyone was seated in their respective teams.
Niel is scheduled to release his debut solo album oNIELy on February 16th, on the same day as f(x)'s Amber.
https://twitter.com/ryeong9/status/564464003724742659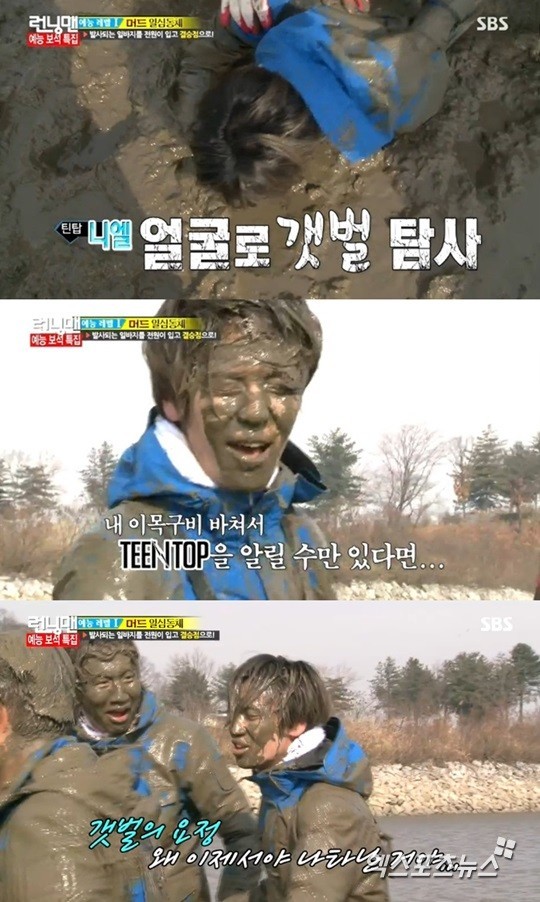 Source: xportsnews
Share This Post