Online Poll Reveals The Most IDEAL Height Korean Women Prefer In Men
Netizens discuss the ideal height wanted in men voted by Korean females.
When looking for their ideal types, there are physical features such as face, height and body type that people look for in their opposite sex. Korean men tend to value women's pretty face over the body. But what is valued by women when looking for their ideal men?
Originally posted on Pann, netizens discuss the survey results of Korean female's ideal height in men.
Titled "Ideal Height of Wanting to Walk Together?" here is the direct translation of the post and comments below.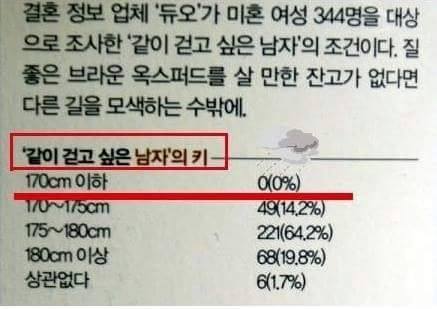 Below 170cm (5″6)                 0 (0%)
170~175cm (5″6 ~ 5″8)       49 (14.2%)
175~180cm (5″8 ~ 5″9)      221 (64.2%)
Over 180 cm (5″9)                68 (19.8%)
I don't mind                             6 (1.7%)
"I really want around 182 ~ 185 cm T_T
I really get nervous when I'm around that height…"

---
NETIZEN REACTIONS
Koreaboo has collected reactions from Netizens who commented on the original article from our Korean source. The below comments are the most popular comments at the time of this article being published.
---
[ +178 / -39] That is like asking guys what cups the prefer in women. A, B or C cups?
[ +176 / -13] Well if you just put the height on the line, of course women want taller. But when do people just look at height in people. They look at the overall mix of features. I hope men don't feel bad from this post due to their height and lose confidence…. Height is just the height… There are so many ways short men can improve themselves.. Even if you worry and feel bad for yourself, there is no way you can get taller so please don't worry and try to improve in other ways
[ +123 / -128] When I see girls around me who want men taller than 180cm, they are usually below 155 cm.. They look like midgets from far away
Source: Pann
Share This Post