[★OP-ED] 5 Best Moments of "Show Me The Money 3"
2014 was definitely the year that epitomized the rise of hip-hop in Korean pop culture–the year that saw the unexpected harmony between mainstream and underground hip-hop, brought about by programs such as Mnet's Show Me The Money. Because 2014's run of Show Me The Money was such a crucial part of the year in hip-hop, we have composed a list of 5 moments in no particular order of Show Me The Money 3 that are worthy of being remembered.
1. "That's No-No"
Those who are already aware of this inside joke are most likely to be either shaking their heads in slight shame and disgust, or are trying not to burst out laughing at the mental image of Masta Wu of the YG Team stoically claiming, "That's no-no." While the statement was made about quite a serious topic in the episode, where the judges were discussing the overwhelming popularity of one of the contestants who seemed to be incorporating a lot more of rock elements than hip-hop into his song, "That's no-no" may be the single most iconic reminder of what was to be an unforgettable season of the hip-hop survival show.
2. B.I's Freestyle Audition Rap
It's no secret that iKon's B.I and Bobby were participants in the show, and it is also no secret that the audition rounds are brutal, with no mercy shown. Unless you are YDG. However, the moment B.I came face to face with judge Dok2, who, along with partner The Quiett, is known for being so merciless that they passed not a single rapper in the first batch of a hundred auditioners, time stopped. And so did B.I in the middle of his rap. However, just before anyone realized what was going on, B.I went on to jump off the stage, free-styling half of the rap that came along, trampling on any perception of idol rappers that had been plaguing the minds of the other contestants. Dok2 later revealed that the reason he passed B.I was his boldness, which continues to turn up in following episodes through B.I's habit of jumping off the stage while performing. He unfortunately continued to forget lyrics in his journey throughout Show Me The Money, and though it may have been a short journey, he definitely left a deep impression as a skilled rapper with a high level of potential.
Bonus translation: "YO YO YO! EVERYBODY THAT'S RIGHT I FORGOT MY LYRICS"
3. San E's Hyena Laughs
San E is, by far, the most interesting rapper in the judging panel of Show Me The Money. He is very clearly one of the chillest, always grinning cheekily, with an equally cheeky laugh. There seems to be a stereotype that all rappers, or at least, most, are quite serious and intimidating. In fact, Team Illionaire, consisting of Dok2 and The Quiett seems to have fueled this stereotype even more, as they hide behind their sunglasses and snapbacks, refusing to say anything more than "Thank you" as a way of cutting unsatisfactory people off. However, San E defies all these stereotypes, proving to be the complete opposite of Illionaire, constantly smiling and laughing his crazy hyena laugh, easing the nerves of contestants. San E's laughs are truly the highlight of every episode, acting like a virus that makes the viewer burst into laughter.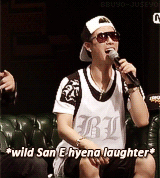 4. J.Slow's Imitations of the Judges
One of the most memorable moments of the 2nd round was the performance of J.Slow, a rapper who blew the judges away with his unique flow and imitating abilities. That's right, J.Slow took on the Solo Judgement round by imitating each of the judges, and they weren't all that bad. In fact, the highlight of the entire episode might possibly be his moment of channeling YG judge Tablo, when he took a moment to considerately ask, "Haru, do you want daddy to buy you a dolphin?" He got a pass from three judging teams out of four, securing his spot as a contender not to be taken lightly. Check out his entire imitation rap, featuring Simon D, Dok2, The Quiett, Snoop Dogg, YDG, San E, Jay Z, Tablo, Lil Wayne, Vasco, and E-Sens! 
5. Vasco's "187 + Grey"
There is a clear lack of actual contestants and their songs in this list, and the reason behind this is that there is one song in particular that truly stands out among the others. All songs produced and performed were spectacular; praise and respect due to all those who made them as amazing as they were. However, the difference between just a fun song to listen to and a song that touches you is the experience, sincerity, and struggles that have been poured into the track, including all of the hardships and happiness that have clearly shaped the person into who they are today. That is why veteran underground hip-hop artist Vasco's track for Episode 8 has left such a great impact on viewers. The theme for the episode was "love," and being a single father, Vasco decided to perform a track called "187," which is about his struggles with trying to battle against opposing forces in order to create a place in the world for him and his son. The most endearing thing about Vasco is the fact that he has gone through so much, yet remains humble and positive. "187" presents the thoughts an emotions of the hardships and struggles of being a single father: the need to survive in such a harsh world in order to live a life that their children could be proud to watch and learn from.
Notable Lyrics: 
"Even as the blood dries on my torn up arms and legs, I cannot die till the day I f***** die."
"Sleep well, my baby, don't cry tonight. Daddy's coming home early today."
"Children watch and learn from adults' actions. That's why I can't give up. No, I won't give up. I'll stand back up to set an example. I'm a flying bird, never looking back."
"It's okay to not understand your father. Just hold my hand on my last day."
"Life is not a marathon, but an endless relay."
Show Me The Money may seem like an hour long episode of just fast talking, but there is so much more to hip-hop. The people behind it have their own personalities, strengths, skills, weaknesses, insecurities, and adversities, and that's the true essence behind hip-hop. This is what shows like Show Me The Money have been trying to convey. Hip-hop only has one way to go — up — and it's always looking for potential admirers and fans. Maybe you could be one?
OP-EDs on Koreaboo: This article and the opinions stated therein are the sole responsibility of the author. They do not reflect the views of Koreaboo or its partners.
Share This Post