Performances from "Infinite Challenge's Saturday, Saturday is for Singers (TOTOGA)" Part 2
Once again, MBC Infinite Challenge's special episode "Saturday, Saturday is for Singers (TOTOGA)" touched the strings in many people's hearts. 
TOTOGA, which is the special episode of Infinite Challenge was aired on January 3rd, continuing the excitement and joy from the previous week's episode. The purpose of the show was to bring back the top singers from 90s through a spectacular, revival stage.
The first stage was performed by the group COOL, with Jewelry's Yewon replaced the empty role of Yuri who was unable to join the filming. Wearing their trademark big goggles and doorags, COOL reproduced their 90's looks perfectly as they sang their hit tracks, "Ae Sang" and "Before Sadness Comes." COOL's Lee Jae Hun said, "The energy of the fans were amazing. never experienced something like this before."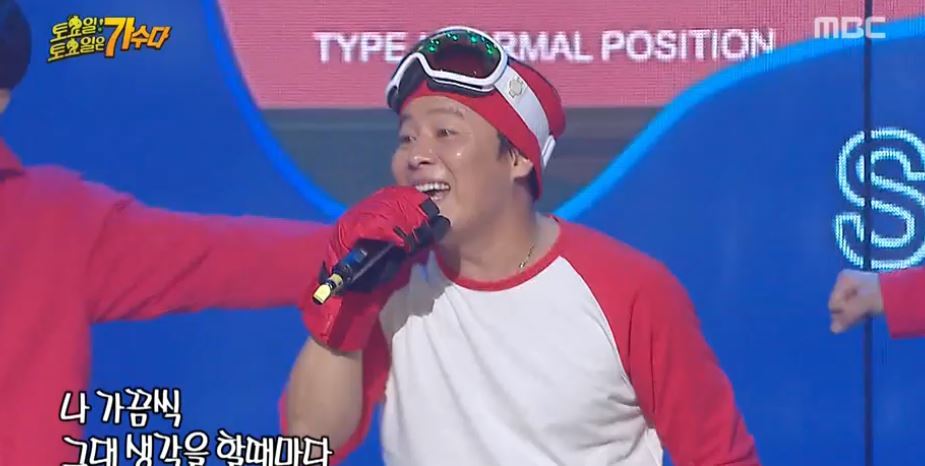 On the following stage, So Chan Whee sang "A Wise Choice" and "Tears" with her explosive singing, which are normally popular amongst women when singing in karaokes in South Korea.
Jinusean, the hip hop duo who became one together after a long time, performed "A-Yo" and "Phone Number" fascinating its fans, especially when they performed the song "Tell Me," where Uhm Jung Hwa made an surprising appearance reproducing the stage perfectly as it was 17 years ago.
Jo Sung Mo, on the other hand,  sang the ballad song "To Heaven" and "I Swear," while Lee Jung Hyun transformed into a techno doll warrior singing "Wa" and "Joolae."
Uhm Jung Hwa also appeared on the stage as a singer for the first time in a while,  performing her songs "Invitation" and "Poison." She gave off her charm as a sexy diva live , with Yoo Jae Suk joining her stage onstage in behalf of Kim Jong Min. 
The finale stage was performed by Kim Gun Mo, who express his nervous prior going to the stage. He sang "Sleepless Rainy Night" and "Love is Gone" with his genuine singing skills and unique voice. The singer also performed an encore singing "Wrongful Meeting," where  all of the cast members and guest artists came up on the stage and sang the song altogether.
Infinite Challenge's special episode "Saturday, Saturday is for Singers (TOTOGA)" was designed by Jung Joon Ha and Park Myung Soo who initially suggested to combine two popular TV shows, Saturday Night Music Show and I Am a Singer.
Despite being made fun for their "shabby" proposal, the special episode was eventually dubbed as the "best ever legendary episode of Infinite Challenge" after going through producer Kim Tae Ho's directions.
Source: Sports Daily
Share This Post