Plastic surgeons crown the four idols with best facial ratios
Acclaimed plastic surgeons gathered together on Mnet's Moon Heejun's Innocent 15+ to determine which idols have the perfect facial ratios.
To determine which idols have the perfect facial ratios, the surgeons began by dividing the survey between male and female stars. The male candidates included popular idols such as 2PM's Nichkhun, BIGBANG's T.O.P, SHINee's Minho, Super Junior's Donghae, and EXO's Suho. Some of the female candidates mentioned were Girls' Generation's Yoona, Red Velvet's Irene, missA's Suzy, Girl's Day's Yura, Davichi's Kang Minkyung, f(x)'s Krystal, and AOA's Seolhyun.
The plastic surgeons discussed previous and current facials ratio trends and stated that, "The perfect facial ratio was 1:1:1 in the past, but the recent trend of wanting to look sharper and younger made the 1:1:0.8 ratio most appealing." The numbers represent the distance of forehead to eye brows, eye brows to nose tip, and nose tip to chin.
In the male category, WINNER's Kim Jinwoo placed second and a plastic surgeon commented saying, "[Kim Jinwoo's] overall ratio fits perfectly with the current trend. He has a very good facial features." EXO's Suho took the title of best facial ratio and was even said to have "the golden facial ratio" by one of the plastic surgeons.
In the female category, Irene from the rookie group Red Velvet beat out her senior competition and came in second place. A surgeon explained, "[Irene's] upper, middle, and lower portions of the face have a good ratio and is maintained well." Girls' Generation's Yoona took the title for the best facial ratio in the female category and received comments saying, "[Yoona's] facial proportions are perfect and it could be considered the ideal face."
Here are the candidates and an example of the facial mapping: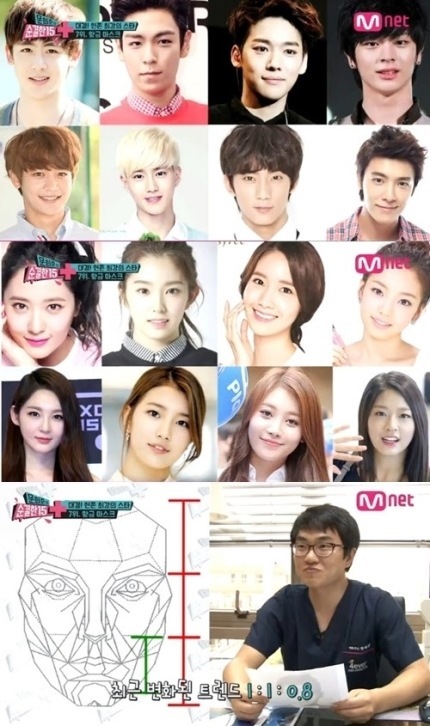 Source: eNews 24
Share This Post