[★TRENDING] Poll reveals top idol vocalists among Koreans
A recent poll held on a popular online community asked its members who they thought was the best singer out of the following male idol group vocalists. The results will knock your socks off!
On May 17th, a poll titled, "Idol Vocalists Rediscovered… Which of the following male idol vocalist has the best singing skills?" took place on the popular South Korean online community, Nate, with over 420,000 total votes.
The artists included in this poll are as follows:
Super Junior's Kyuhyun
EXO's D.O.
B1A4's Sandeul
Infinite's Sungkyu
BEAST's Yang Yoseob
CN Blue's Jung Yong Hwa
SHINee's Jonghyun
JYJ's Junsu
BIGBANG's Taeyang
and "Others: leave the artists' name in the comments"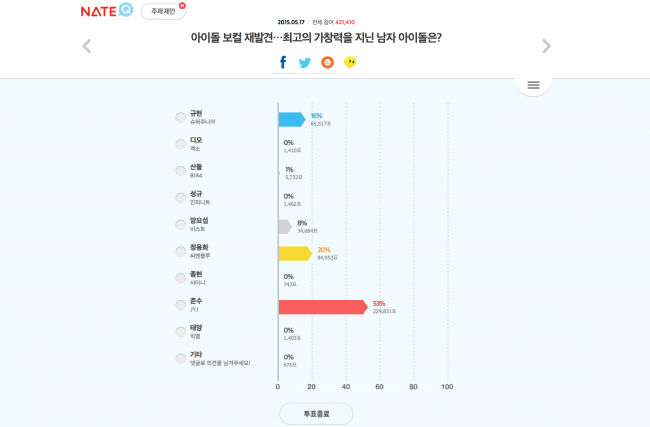 As seen in the screen capture of the poll above, the number one artist who won the votes of 224,831 people, nearly 53% of all votes, was JYJ's Junsu. Coming into second place was CN Blue's Jung Yong Hwa with a whopping 84,953 votes (20%) and in third place was Super Junior's Kyuhyun with a total of 65,517 votes (16%).
Coming in close to fourth place with a total of 8% of votes was BEAST's Yoseob, then Sandeul of B1A4 with 1%. Though the rest of the artists included in the poll are just as talented, the votes were not much in their favor.
Netizens who participated in the poll left comments such as, "I don't know why people put these polls up. Everyone has different taste," "These polls only start fandom wars, but I guess judging by the results, Junsu is loved as a vocalist by the general public," and, "This poll is completely accurate."
The other top-voted comments on the poll include, "Xiah Junsu is all alone behind a wall that's impossible to get through," "What's the point of even having this poll? It's obviously Kim Junsu," and last but not least, "Xiah Junsu is, of course, the best."
What are your thoughts on this poll?
Source: Nate
Share This Post