Restaurant's "proof picture" makes JYJ's Junsu look like a criminal
Restaurants like to post photos of celebrities who've eaten there, but one restaurant as gained a lot of attention for a particular proof shot of JYJ's Junsu.
While many restaurant owners take photos with celebrities and sometimes even get their autographs, a pork stew restaurant owner is using a screenshot from their CCTV to prove that the JYJ singer had visited his store. One visitor who saw the proof photo decided to share the photo online, drawing a lot of attention.
Find out what Netizens had to say about this article below!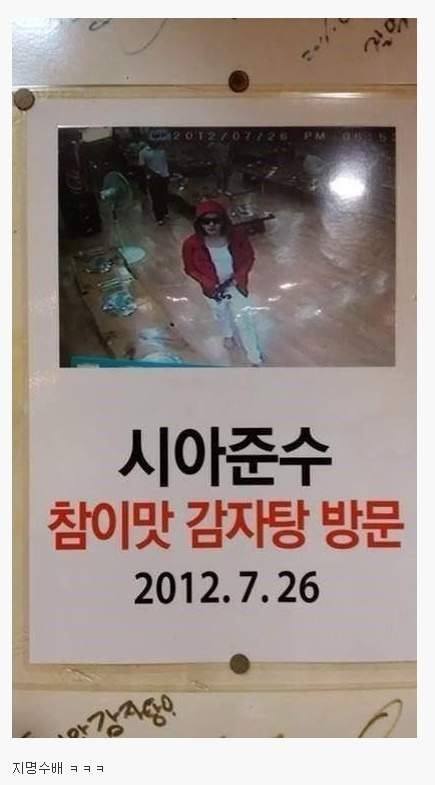 "It looks like a wanted poster ㅋㅋㅋ"

---
NETIZEN REACTIONS
Koreaboo has collected reactions from Netizens who commented on the original article from our Korean source. The below comments are the most popular comments at the time of this article being published.
---
[+ 62, – 0] ㅋㅋㅋㅋㅋ was he shy when Junsu visited ㅋㅋㅋㅋ he could have just asked for a signature or an autograph ㅋㅋㅋㅋㅋㅋ CCTV footage ㅋㅋㅋㅋㅋ
[+ 60, – 0] I've never seen anything like this ㅋㅋㅋ imagine Junsu goes again and sees this
[+ 51, – 0] This is cracking me up ㅋㅋㅋㅋ wanted poster ㅋㅋㅋ
[+ 17, – 1] Not even an autograph ㅋㅋㅋ what is that ㅋㅋㅋㅋ
[+ 15, – 0] Xia nim looks like a criminal ㅋㅋㅋㅋㅋㅋㅋㅋ
Source: Pann
Share This Post