Rubber Duck Project craze sparks K-pop idols' interests
A giant rubber duck appeared in Seoul on October 14th in order to celebrate the opening of the new Lotte World Mall. Its arrival has sparked the interest of many idols who have posted cute and funny posts about the duck.
The enormous rubber duck is a project initiated by Dutch artist, Florentijn Hofman, who describes the duck as "a very positive artistic statement that immediately connects people to their childhood."  It has traveled to many cities across the world and this month it was invited to Seoul by The Lotte Group. The duck will be on display from October 14th – November 14th in front of the construction site of the new mall.
Since the rubber duck arrived in Seoul, many artists and idols have taken to their social media accounts to express their love of the duck. Check out some of the artists below who were amused by the duck.
Block B's Hyo dedicated five posts to the duck, two of them being pictures.
"14105 preview of the rubber duck's butt~~~~"
141015 미리보기 러버덕 궁뎅이~~~~ pic.twitter.com/ITMHSwmm5K

— 안재효 (@blockbhyo) October 15, 2014

"Our chubby duck lifted my mood."
오리뚱땡이 내가 분위기 쩔게 한컷해줬다 http://t.co/THP0872sXQ — 안재효 (@blockbhyo) October 16, 2014
Juniel also snapped a cute selca with the duck, "It's a little difficult taking a picture together with the rubber duck."
러버덕이랑 같이 사진찍긴 힘드러쩌.. pic.twitter.com/KJuw7JTVyw

— JUNIEL (주니엘) (@junielism) October 16, 2014
Kim Tae Woo's family had an outing on SBS Oh My Baby where they met the duck.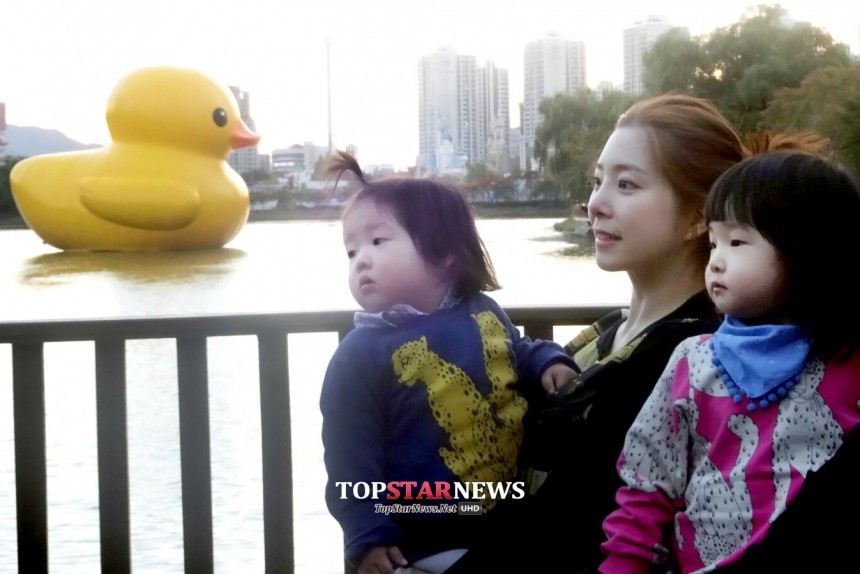 Kevin Woo from UKISS posted a candid photo on his Instagram of the duck:
"HUGE Rubber Duck!!! Rubber duck, rubber duck~ cute ha ha かわいい! #rubberduck #quackquack #amidreaming #duckinvasion"
HUGE Rubber Duck!!! 러버덕러버덕~ 귀여워 ㅎㅎ かわいい! #rubberduck #quackquack #amidreaming #duckinvasion
SECRET's Jun Hyosung urged fans to go see the duck: "#rubberduck aingg cute >_</// definitely go see it"
#러버덕 아이잉이이잉 긔여오 >_</// 꼭봐야지잉
BTS discovered the duck was in their car:
"Rubber duck was in our car…?!Since when were you there?"
우리 차에 러버덕이 있었다…?! 너 언제부터 거깄었니? pic.twitter.com/04Z4kbWZqq

— 방탄소년단 (@BTS_twt) October 15, 2014
Leeteuk from Super Junior also updated his Instagram with the duck: "..Losing in the day, winning in the night."
Source: Topstar News, Fjorentin Hoffman, Rubber Duck Project Seoul
Share This Post