SBS drama "Pinocchio" releases still cuts for Park Shin Hye and Lee Jong Suk
With only a week left until the premiere of the upcoming and anticipated SBS melodrama Pinocchio, more still cuts of the leads Park Shin Hye and Lee Jong Suk were released.Park Shin Hye plays the character Choi In Ah, who is known to have the "Pinocchio Syndrome", hiccuping whenever she lies. Together with Choi Dal Po (Lee Jong Suk), the two young, passionate reporters-to-be show their passion to deliver justice through journalism.
In her still cuts, Park Shin Hye gives a youthful look as she rides her bicycle down the road with a bright smile, wearing a school uniform, baggy, green gym pants worn beneath her skirt.
Lee Jong Suk, on the other hand, shows his childish side as he poses with erratic hand movements. He is seen comically laying down and oddly posing on the floor in his shaggy, black wig and school uniform.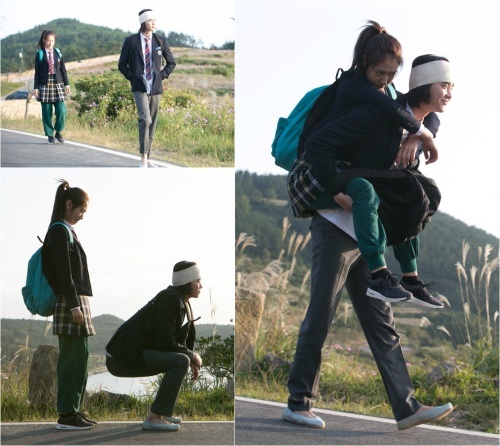 A third set of still cuts show the two lead actors interacting, at first, Lee Jong Suk nonchalantly leading with hands in his pockets and Park Shin Hye following behind. After a ways down, Lee Jong Suk, seemingly suffering from a slight head injury indicated by the wrap around his head, offers her a piggy back ride, to which she accepts with a pout.
Pinocchio will begin airing on November 12th at 10pm KST.
Share This Post