Siwon confirms his stance against same-sex marriage
On September 11th, Siwon retweeted various messages in light of the recent Davis case about same-sex marriage in the United States.
Known for expressing his opinions against same-sex marriage in the past, the Super Junior member retweeted a news article as well as two Biblical passages to confirm his position on the controversial matter.
When previously asked about sexually ambiguous roles the actor revealed, "I will respectfully refuse any such offers. While I respect all genders, I do not wish to acknowledge homosexuals as I have been taught that God created Man and Woman with specific characteristics and duties. I realize that with globalization, there are many [entertainers] who do not share my views. There are those who are value-oriented and those who are success-oriented. However shouldn't an actor deliver an image to his audience through roles he chooses to portray, based on his beliefs in life?"
However, fans were quick to note that despite this answer, Siwon does not hesitate to share skinship with other males. An old collage of photos showing intimate interactions between he and Super Junior power vocalist Kyuhyun was brought up because of this.
His recent tweets confirm his stance against same-sex marriage as he stated he aligns strongly with the beliefs of his religion.
The recent case revolves around Kim Davis, a Kentucky county clerk who refused to issue same-sex marriage licenses. She was ordered to jail last Thursday but has been released this Tuesday on September 8th. She insisted that issuing these licenses was against her religious beliefs and therefore refused to do so.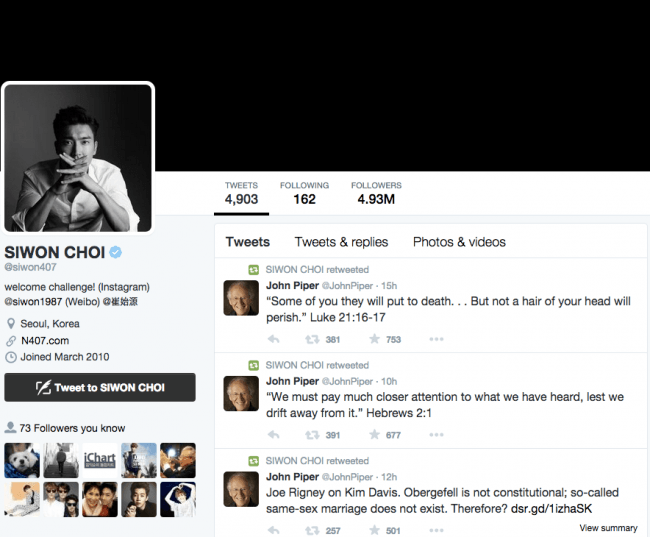 Source: Siwon's Twitter, The Yale Globalist, TV Report, and CNN
Share This Post