Starship Entertainment announces "Starship X" Concert
On October 28th, Starship Entertainment announced on their official Facebook page that they would be holding another joint concert with Starship X artists at the Walker Theatre Hall Hotel in Seoul!Artists from Starship Entertainment and their independent sub-label agency, Starship X, previously joined together to hold a concert in August. The concert, which will take place on December 5th, is set to feature Starship Entertainment's Soyou and Hyorin of SISTAR and Starship X's Junggigo, Mad Clown, and Jooyoung. The concert will also include Starship X's new group, Nu Boyz.
Collaboration singles between the two agencies' artists have already proven quite popular, with SISTAR's Soyou having collaborated with both Mad Clown and Junggigo in the past two years. It's safe to say that like the 2014 STARSHIP X TROOPERS concert in August, we can expect many joint collaboration stages between artists, as well as solo stages for each artist to showcase their individual talents and abilities.
The year 2014 has definitely been a good year for Starship Entertainment so far, with multiple artists earning music show wins and topping charts.
Early bird tickets for the event are already on sale through Ticketmonster, at the price of 70,000 Won each. Are you going to be attending?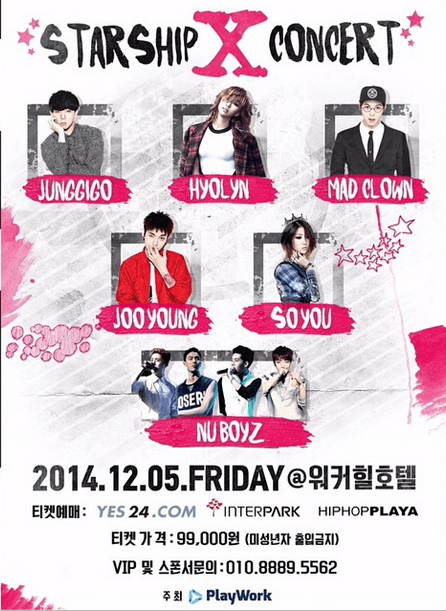 Source: Starship Entertainment Official Facebook
Share This Post