#SungminOUT trends on Twitter in Korea
Not all ELFs seem to be taking the announcement of Super Junior Sungmin's marriage in with open arms, as #SungminOUT trended on Twitter.
Earlier, Koreaboo reported #BeHappySungmin had trended worldwide following the announcement that he was to marry girlfriend Kim Sa Eun this coming December, seemingly proving that fans were not as against the marriage as initially expected.
However, a day later on October 16th, the hashtag #SungminOUT appeared on the trending list for Korea reflecting the dismay that many fans have clearly been feeling.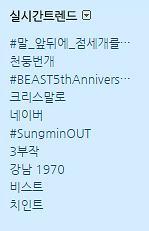 However many other fans took countered the heartwarming support, such as #SungminSTAY and #HappyTogetherWithSungmin.
The positive response continues with a support project on Chinese social networking site Weibo being organised in favor of Sungmin's marriage, presenting a joint declaration made by C-ELF (Chinese Super Junior fan club) that they will continue to stand by Sungmin and Super Junior.

Once again, we congratulate Sungmin and Kim Saeun on their engagement!
Share This Post