Super Junior's Heechul takes a hiatus from Weibo
After Super Junior's Heechul announced that he would be taking a hiatus from Instagram on October 16th, he has also publicly announced that he will not be updating his account Chinese social networking site Weibo for the time being.
On October 17th, it was also found out that Heechul is taking a break from social networking site Weibo. On his last post, Heechul uploaded 9 pre-debut photos of himself and left a message saying, "Let's meet in China. I will also take a break from Weibo for the time being, everybody please do not say any unhappy things anymore. Please don't be sad anymore, please be happy…." Although it wasn't explained on why he is taking a break, some speculate that it could partly due to the fans' reactions towards Sungmin's marriage confirmation with Kim Saeun. Super Junior member Ryeowook also spoken up about this issue through his radio on October 16th as well.
Earlier today, it was reported that Heechul temporarily deactivated his Instagram account, removing his profile photo and updating his account profile.
Meanwhile, Heechul joins the rest of SM Entertainment's artist as they fly to Shanghai, China for their ongoing "SMTOWN Live World Tour IV" concert stop. He, along with Super Junior, will also be preparing for another set of promotions as release a repackaged album "THIS IS LOVE" on October 27th.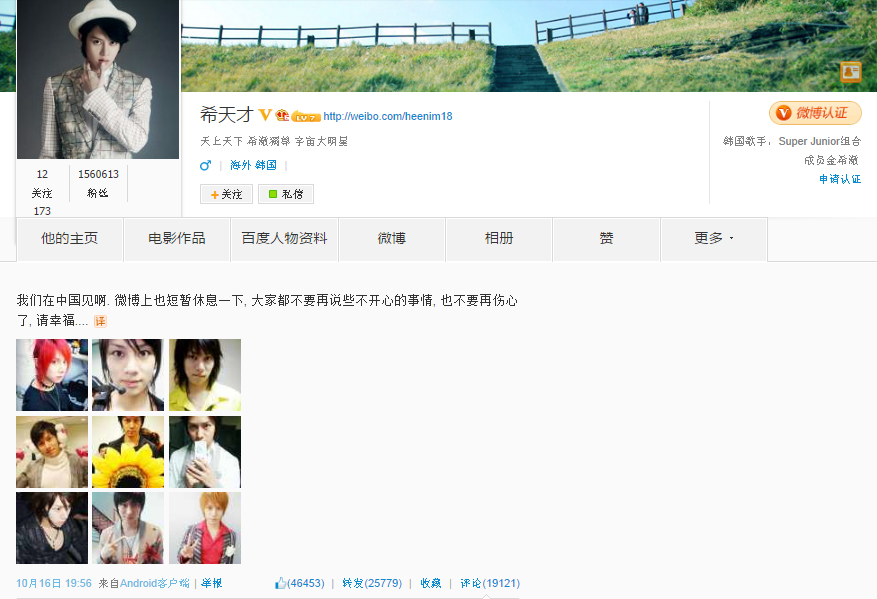 Share This Post