Super Junior's Kangin gets slammed after calling VIXX's N "trash" in recent interview
Super Junior's Kangin is receiving a large amount of negative comments from netizens after he called VIXX's N "fucking trash" in a recent magazine interview.
Kangin is one of the five male panelists on MBC's Shin Dong Yup's Bachelor Party (hereby Bachelor Party) alongside Eunhyuk, Kim Jong Min, Jo Se Ho, and VIXX's N, the youngest. He was recently featured in one of the four covers of Korean magazine edition of MAXIM with the other cast of Bachelor Party taking up the remaining covers, sans N.
In his interview with the magazine, several replies made by Kangin has caught the eyes of netizens, causing them to criticize the Super Junior member for going what they believe was too far, as he takes his Bachelor Party role (an older man who is jealous of N, a younger suave male who is popular with women) into an interview magazine.
On a post titled "An idol who was called a 'fucking trash' on broadcast" was created on online community board Instiz on April 29th, sharing the following excerpts from the interview:
Translations are made by Koreaboo.
Question: N says cheesy things to women. Girl group judges have always placed N in first place, isn't it cringe worthy?
Kangin: I want to kill him. I'm thinking on how to beat him up.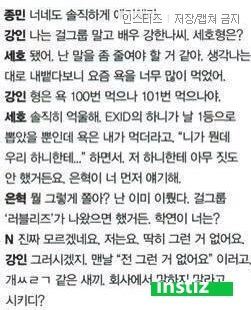 Jong Min: [line not decipherable]
Kangin: For me, not a girl group but actress Kang Han Na. What about you Se Ho hyung?
Se Ho: Nevermind. I think I need to talk less. Whenever I've spoken what was on my mind lately, I've received a lot of hate.
Kangin: Do you get hate 100 times or 101 times
Se Ho: To be honest it's unfair. All EXID's Hani did was choose me first but I got the hate for it, saying stuff like "Who are you to appeal to our Hani…" I didn't do anything to Hani. Eunhyuk, you speak first.
Eunhyuk: Why are you scared? I've already chosen. I wish girl group Lovelyz would come out. How about you Hak Yeon (N)?
N: I really don't know. I personally don't really have a specific preference like that.
Kangin: I bet you do, since you always say "I don't have something like that" you fucking trash, did your company tell you not to say anything?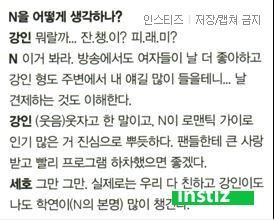 Question: What are your thoughts on N?
Kangin: How should I say this… Small fry? Minnows?
N: Look. Even on broadcast girls like me better and even Kangin hyung must've heard [them] talk about me around him.. I understand you keeping me in check [why he's defensive].
Kangin: (laughs) I said that to make us laugh, and I'm sincerely proud of you/great for you for being popular as a romantic guy. I wish you would get lots of love from fans and quickly leave this show.
Se Ho: Stop, stop. In real life, we are all close, and Kangin, myself, and Hak Yeon all take care of each other.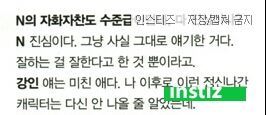 Question: I've heard that even N's self-praise/admiration are rather extreme, is this the truth?
N: It's the truth. I'm just speaking honestly. And it's just that I'm [saying] I'm good at what I'm good at.
Kangin: He's a crazy kid. I thought such a character who lost their mind wouldn't come out again after me.
******************************************************************
In another post also made on April 29th, a post titled "Super Junior's Kangin makes it obvious he hates VIXX's N" was published and showed a screencap of Kangin's Instagram post.
The photo revealed Kangin having dinner with staff and other members of Bachelor's Party, and the caption reads, "Leader of the Bachelor Party, Boss Dong Yeop, Jong Min oppa and daebak Se Ho hyung, you all did well today (and) it feels a bit empty without Eunhyuk #eunhyukanchovy."
Though Eunhyuk was not present at the dinner party, N was not mentioned, leading netizens to once again to believe that Kangin does not like the VIXX member.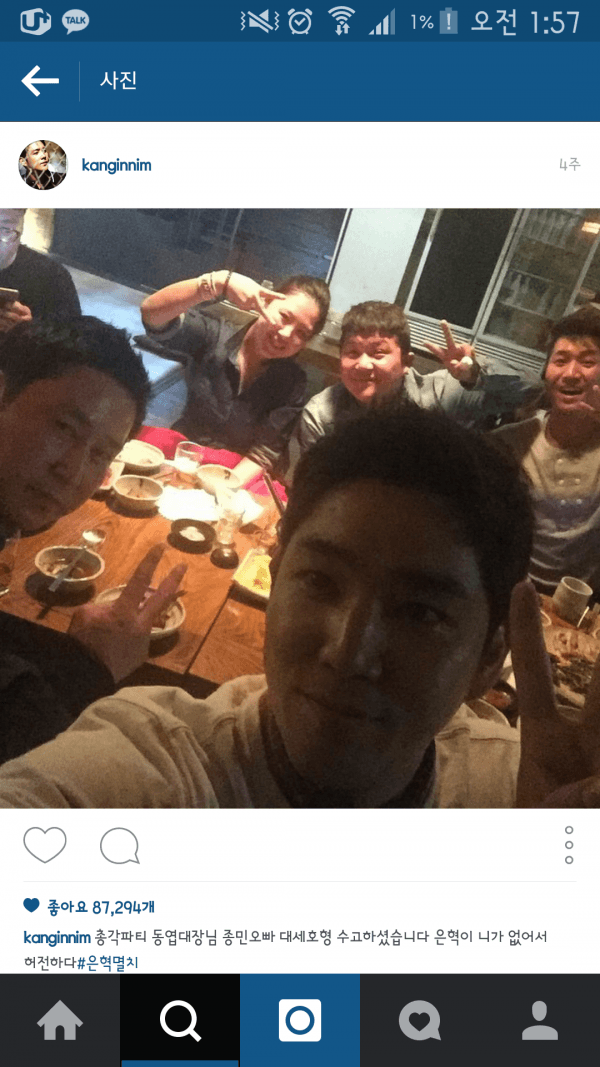 Netizens commented on this particular post, "Heol…" "Really…??" "I don't understand why he said this in public," "He probably doesn't dislike N. And this situation may look bad but we shouldn't come to rash conclusions."
Share This Post