T.O.P under fire for allegedly rude hands while receiving MMA awards
BIGBANG's T.O.P has been under netizen scrutiny for his allegedly rude hands during the group's acceptance speech at the recent MelOn Music Awards.
Fans have taken to criticizing a screenshot from the group's acceptance speech of the TOP10 award at the award ceremony. While G-Dragon is in the foreground and the four remaining members are in the back, eyes are clued in to the fact that T.O.P's hands are casually in his pockets. Similar behaviors are seen in their acceptance of the Netizens' Choice Award
Many netizens have commented that this behavior is looked upon as being rude and should not be discounted just because "they are BIGBANG." In fact, others noted that during interviews in Thailand and Taiwan he was openly using his phone, tagging him as arrogant.
However, others have defended him by revealing that rather than a sign of rudeness, his hands in his pockets should be interpreted as a sign of his nerves. Despite being a top star, fans share that he is not perfectly comfortable with public speaking and so gets nervous easily.
Find out what Netizens had to say about this article below!
Take a look at some of the videos here:
https://www.youtube.com/watch?v=KwpH3T0KqDY
https://www.youtube.com/watch?v=zA53FD9No5k
https://www.youtube.com/watch?v=jvBYnsuunH0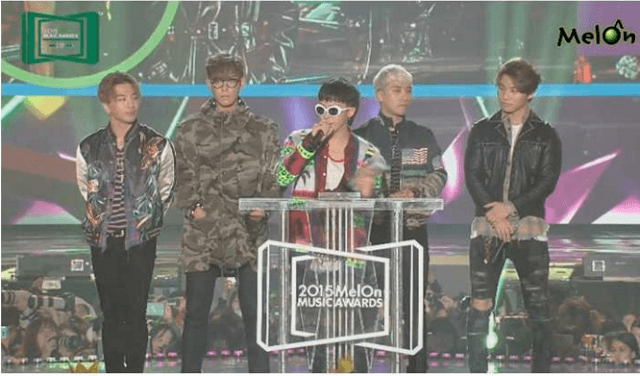 ---
NETIZEN REACTIONS
Koreaboo has collected reactions from Netizens who commented on the original article from our Korean source. The below comments are the most popular comments at the time of this article being published.
---
[+ 740, – 72] If EXO had done that they would have been chewed out so hard
[+ 669, – 177] Such arrogance did he lose his head? Well I guess it's expected from a group that promotes well with the protection of fan girls even after committing a crime. T.O.P was even using his cellphone during an interview with I don't remember if it were Taiwan or Thailand. Hey fan girls come defend him. Were his hands cold? ㅋㅋㅋㅋㅋ These crazy girls just dislike comments when they have nothing to say
[+ 523, – 72] The only reason that this isn't a huge issue is because they're Big Bang
Source: Pann
Share This Post