T.O.P's boss reply to a fan on Instagram is epic
T.O.P shows just how much of a boss he is in a hilarious reply to a fan on his Instagram account.
The BIGBANG member is no longer a stranger to Instagram since joining (and spamming) a few days ago. He continues to update his Instagram daily, though has taken a break from mass posting.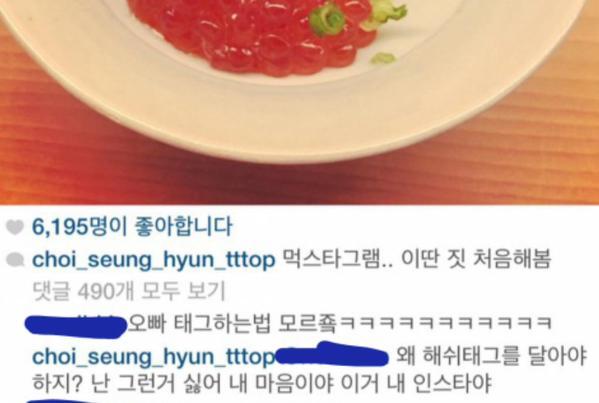 His latest posts share the delicious food he is enjoying with 2NE1's CL, who flew back to Seoul from her stay in the United States to show her support for BIGBANG's comeback concert, MADE.
Uploading a photo sharing his plate of caviar, or fish eggs, he writes, "Eat[ing]-stagram.. The first time I'm posting something like this."
Fans began teasing T.O.P for his lack of hashtag use, which would be appropriate for his food Instagrams.
One particular fan wrote, "Oppa, you don't know how to use hashtags kukukukukuku," to which T.O.P gave a boss reply and said, "Why do I need to use hashtags? Depends on my mood, this is my Insta[gram]."
https://instagram.com/p/1-qlbBJeVz
Share This Post