Taeyang deletes and apologises for alleged racist post on Instagram
Fresh from being criticised for his alleged racist post, BIGBANG's Taeyang issues an apology straightaway. 
Coming under fire for one of his Lunar New Year post where he was accused of racism for a post featuring American rapper Kanye West, Taeyang issued an apology and claimed responsiblity for the post.
Despite the original post being deleted immediately after the incident, Taeyang made a comment in one of his recent posts saying, "I read all the comments and I am very sorry to anyone who ha dbad feelings about the last post which is now deleted. I didn't know some people would think that way but it is totally my fault and I take responsibility. I did not mean it that way and I hope you guys understand that. I'm sorry again and I will never make this kind of mistake again. I hope you guys will forgive me." 
The post under fire made use of an app that allows the user to fuse their faces with any one they want. Although Taeyang initially posted a version of himself using T.O.P's face, a post with Kanye West's face caught more attention after tagging it with, "Happy Monkey New Year" further imitating a monkey in the video.
Although that post has since been deleted, his page remains flooded with negative responses for its allegedly racist nature.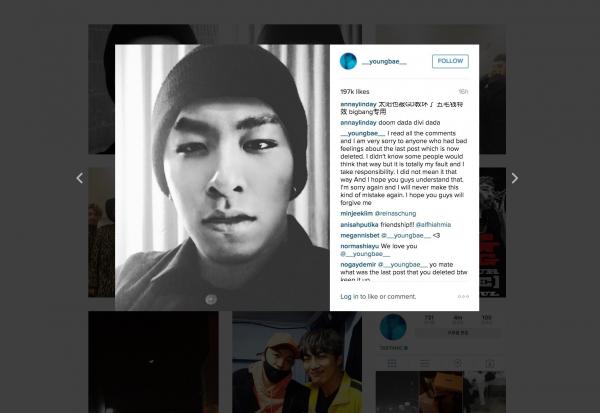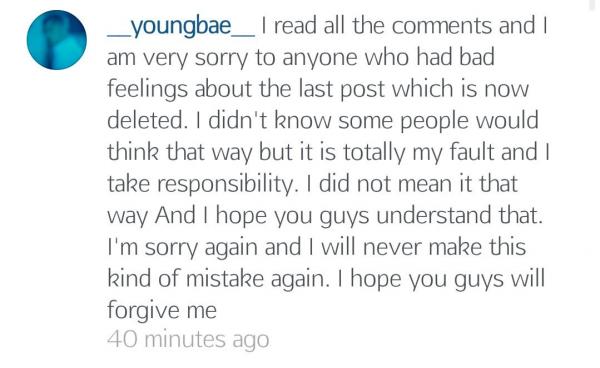 Share This Post