Tiffany accidentally embarrasses several male idols
During the 2015 MAMA, cameras caught multiple incidents of male idols feeling embarrassed after interacting with Girls' Generation's Tiffany. Although she clearly didn't attempt to put anyone in an awkward situation, the SM Entertainment artist's bright and outgoing personality led to several male idols mistaking her actions as gestures for them, only to discover that she was interacting with someone else. A post on Pann about such incidents during the 2015 MAMA has become quite popular.
Find out what Netizens had to say about this article below!
1. When Tiffany was waving to her fans, BIGBANG's Seungri waved back believing she was gesturing to him. When she realizes his mistake, however, Tiffany is quick to reciprocate the wave.
2. When Tiffany goes to bow to Park Jin Young, iKON's Junhoe mistakenly believes that she bowed to him and bows back.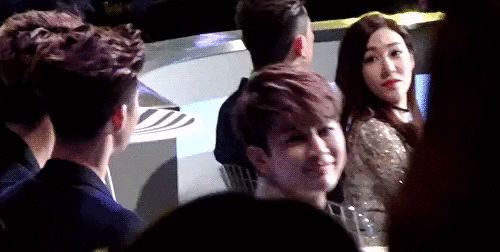 3. She goes to give the members of EXO a high-five but accidentally left out D.O.
---
NETIZEN REACTIONS
Koreaboo has collected reactions from Netizens who commented on the original article from our Korean source. The below comments are the most popular comments at the time of this article being published.
---
[+ 260, – 19] Kyungsoo~~~ ㅋㅋㅋ Tiffany has such a wide range of friends. She has such a happy personality that she becomes friends with people so easily.
[+ 222, – 42] Tiffany is so cutewith her black hair and Junhoe's face when he's all embarrassed, they're all so cute.
[+ 202, – 23] ㅋㅋㅋ Tiffany's friendliness and socialness is probably the best among female idols. ㅋㅋㅋ it shows in her love for her fans and in her everyday life too ㅋㅋㅋ.
Source: Pann
Share This Post