[★FEATURE] Top 10 Moments of Running Man Episode #221
On episode 221 of Running Man, the cast is joined with numerous musically talented guests, including Super Junior's Leeteuk and Kyuhyun, Brown Eyed Girls' Narsha, Bobby Kim, Jung In, Kim Kyung Ho, Kim Yeon Woo, and Hong Jin Young.
This star studded episode left us in awe as the Running Man members and the guests all went to Jiri Mountain to embrace the country culture and to sing a variety of trot songs, a genre most guests present usually don't sing.
Here are our top 10 funniest moments for this episode! Warning: Spoilers Ahead! 
1. Kwangsoo's unfortunate stepping circumstance:
Trying to find his team's first customer, Kwangsoo goes to all ends to lure them in. As the team passed by a grandma who was talking on her phone, Kwangsoo immediately tried to get her attention and got on his knees, giving her a respectful bow. Unfortunately, she seemed to be a bit busy as she not only passed him, but she also stepped on his hand!
Don't worry Kwangsoo, we noticed your kind gesture~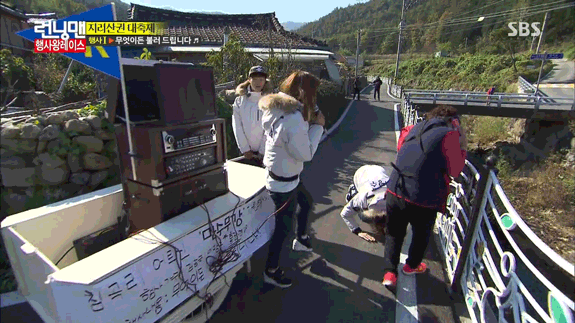 2. "What's Wrong With My Age?"
Finally getting her team's first customer (it's hard finding people at the gas station you know!), Jihyo asks the grandma which song she would like to hear, which, in response, she said "What's Wrong With My Age?" To this, Jihyo flustered, says there's nothing wrong with your age, only to belatedly realize that this is the song's title!
To add to the team's embarrassment, they weren't able to sing the song properly because they had never heard of this song. Perhaps the grandma didn't like their rendition of it because she quickly waved to her husband for them to just leave.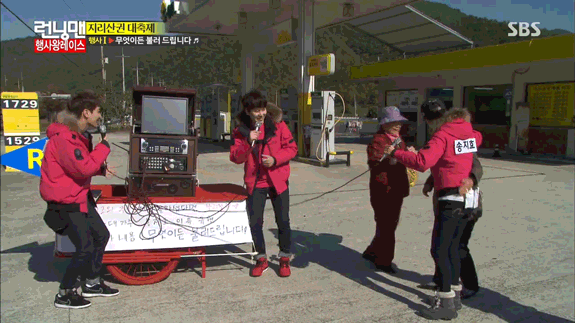 3. Kwangsoo's couple dance with the grandma
Creaky dancing Kwangsoo is back!
By this, we are referring to his "super pumped up" dance move where he stood behind the grandma. I think their height differences really topped the cake. ㅋㅋ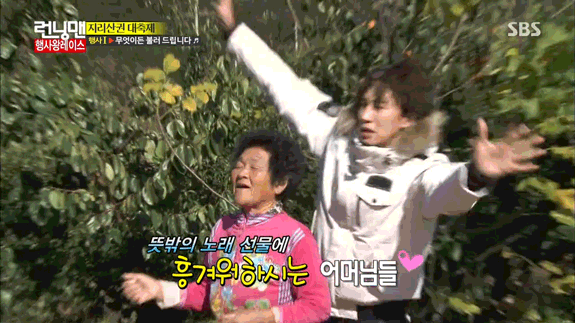 4. "They [Sum-Jin-Kang] sound like crap!"
As Kim Kyung Ho started singing, Jaesuk, trying to raise the atmosphere, casually asked the grandma "He's good, right?" To this, she bluntly said, "No, he's bad! He's going to ruin my hearing!" much to everyone's laughter.
Better yet, the same grandma wondered out loud why this team scored so well in karaoke, because "they sound like crap!"
Poor Sum-Jin-Kang…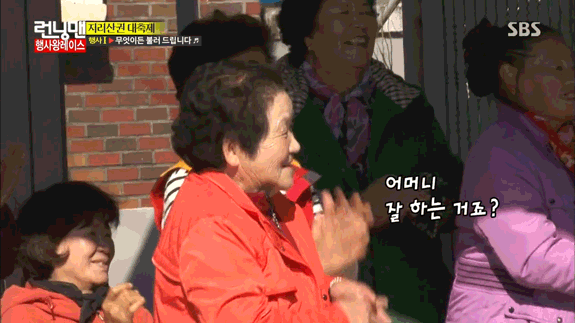 5. "Abracadabra" by Narsha with her backup dancers Haha, Sukjin, and the grandma
Now who said grandmas can't dance?
To celebrate the team's high score, Brown Eyed Girls' Narsha sang and danced a live performance of her group's hit song "Abracadabra." With this, the team encouraged the grandma to dance their signature "sexy hip swaying" dance, which she happily did!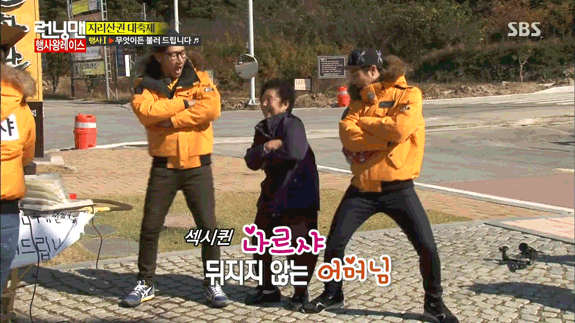 6. Hong Jin Young riding on Kwangsoo's and Jongkook's hard work
Fun, peppy Hong Jin Young who runs on a battery that never ends certainly is bold!
After her team collectively pushed the heavy karaoke cart up the hill (even asking a passing little boy for help), she unashamedly plops back down onto the cart. Both Kwangsoo and Jongkook, out of breath, just eyed her warily; the former previously tried to hide the microphone from her.
Nothing can stop this energizer bunny!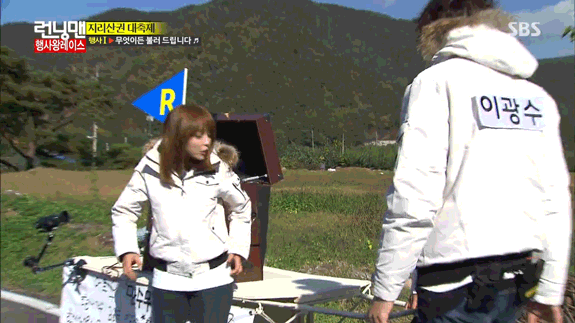 7. Kwang-mole's slight mishap
Kwangsoo seems to be taking on the personas of a lot of animals this year keke
Trying to be the first competitor to reach the next stage, Kwangsoo quickly dug his hold underneath the bar. However, he seems to have missed some dirt, because when he tried crawling through, his head was…stuck.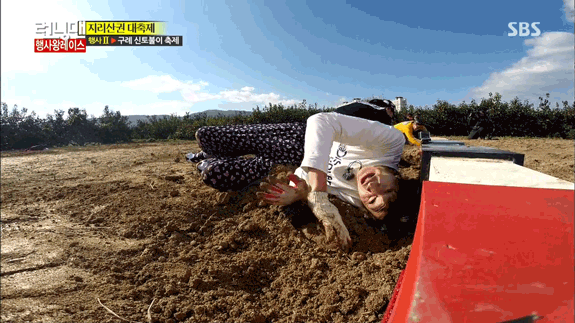 8. Leeteuk yelling "I'm older than you!"
Kwang-mole, in his fervor, saw that Leeteuk was almost done wiggling under the beam. So what does this signature betrayer do? He, of course, pulls on Leeteuk's legs to try to slip him out of the hole. However, this only left Leeteuk in an uncomfortable squished position, where he yelled out to Kwangsoo "Yah! I'm older than you!"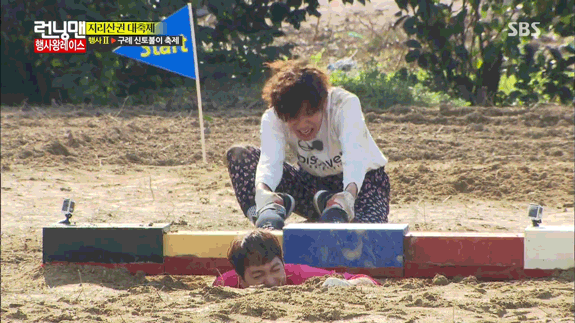 9. Narsha's marathon laughter with Bobby Kim's antics
Watching Bobby Kim failing with each stage multiple times left Narsha in a continuous laughing fit. Out of breath, she told him he was cute~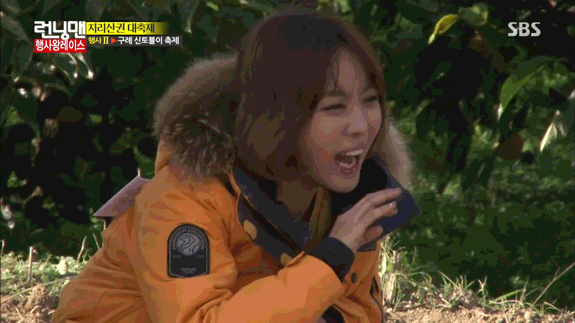 10. Anyone want their food "to go?"
Narsha, Haha, and Sukjin feasted on the wonderful cultural dishes, with the others watching. In a huff, the remaining members and guests decided to take matters into their own hands and make the winning team's meal "to go." By this, we mean they decided to lift the table and move it around, with the team following while eating.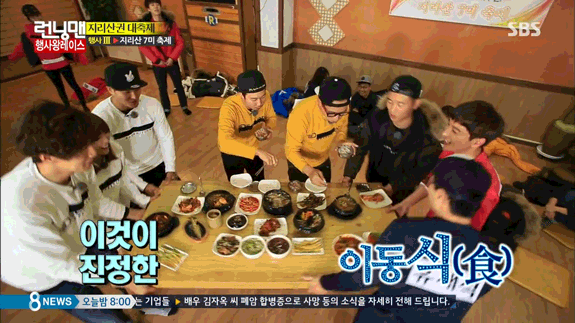 BONUS:
Leeteuk's butt-crushing attack
To stop Kim Yeon Woo from retrieving the radish, Leeteuk crashes into him with his butt. Hey, go hard or go home!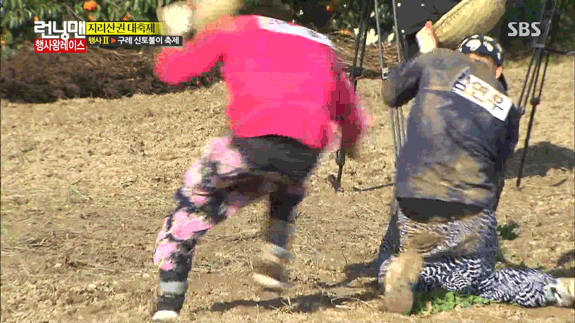 Kim Yeon Woo's heartwarming performance for a baby and Haha's team's "Gangnam Style"-ing with children:
The Running Man team definitely know how to treat kids well!
Kim Yeon Woo sang a sweet song for the customer's baby, who held a calm, steady gaze. Also, Haha, Sukjin and Narsha came together and sang to Psy's "Gangnam Style" with a bunch of kids from the village.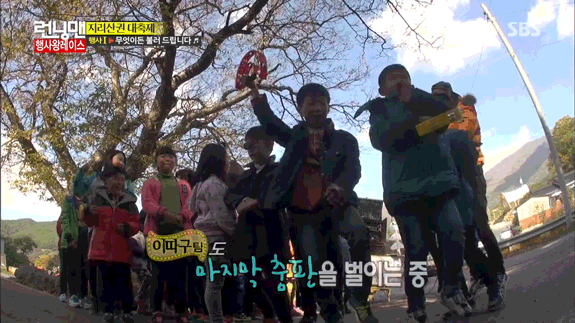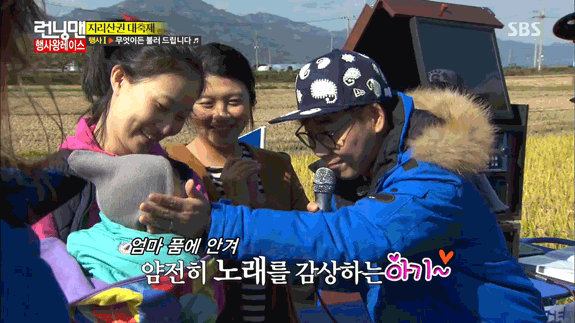 These two scenes were too cute to leave out~
What were your favorite moments in this episode? Did we miss any?
MORE RUNNING MAN EPISODES' TOP MOMENTS:
Share This Post