Top girl groups of July 2015 based on fan cafe membership
Netizens discussed girl group fan cafe rankings for July 2015, partly revealing which of the summer comebacks have made the most impact in the industry.
After July's girl group fan cafe rankings were revealed, netizens gathered to discuss the results. The rankings also revealed how many fans were gained or lost during July as well as the changes in the rankings amongst girl groups.
Originally titled "July's Girl Group Fan Group Members," here is the direct translation of the post and discussion below:
1. Girls' Generation
2. IU
3. A Pink
4. Girl's Day
5. Wonder Girls
6. 2NE1
7. f(x)
8. KARA
9. Brown Eyed Girls
10. AOA
11. 4minute
12. miss A
13. Lovelyz
14. SECRET
15. SISTAR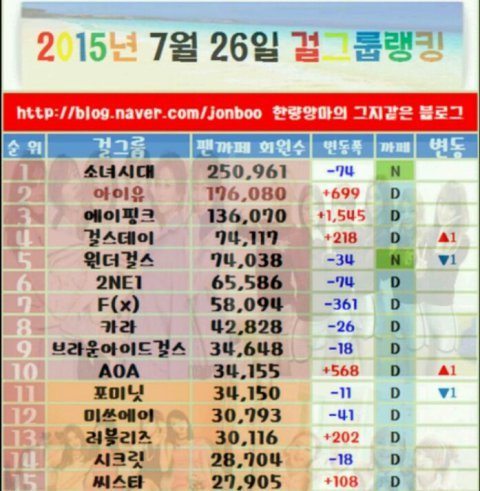 "(I must first mention that SM does not have their official fan cafes)"
"Despite the fact that Girls' Generation doesn't have a official fan group, they have been number one for many years"
"IU is not even promoting albums lately but her fans are increasing wow"
"A Pink increased by a lot during their promotion this summer"
"I am glad that Girl's Day didn't go down but also gained fans"
"AOA is the third in increasing the most fans but rookie group Lovelyz are catching up quickly"
[ +126 / -6] Wow IU is amazing despite that she is a solo singer hahahahahhaha
[ +92 / -24] Lovelyz is gaining fans even when they don't promote.. I can't wait to see how much they will increase once they make their comeback. But Girls' Generation is crazy despite the fact that they don't have a official fan cafe.
[ +85 / -5] IU is the best
Source: Pann
Share This Post