U-KISS flaunts Chinese skills by creating personal Weibo accounts
Five out of six active U-KISS members have just created personal Weibo accounts, a social networking platform to interact with their Chinese fans.
U-KISS member Eli started the ball rolling by being the first out of the group to create his account on the night of January 27th, where his fellow members followed suit the next day, one after another around 1PM KST. While Hoon, Kevin, Soohyun, and Kiseop starting posting on Weibo, Jun is the only member who has yet to create an account. AJ, who is not involved in U-KISS' current comeback and on personal hiatus, also does not own a Weibo account.
After creating their accounts (EliKim91, HooN0816y, Kevinwoo1125, ukisssh89, and KiSSeop0117), the five of them diligently updated with a few posts, including some Chinese phrases. Eli showed the best skills in the Chinese language, as he interacted with his fans with several sentences, sharing past and current selcas.
Kevin said, "I miss you," Hoon asked for fans' guidance and support, Kiseop shared a selca, while Soohyun greets his fans good night.
Kevin also mentioned Super Junior-M's Zhoumi in a post, thanking Zhoumi for following him after the two met at SBS' The Show. Zhoumi then kindly retweeted him with the new account names, also showing support for their comeback.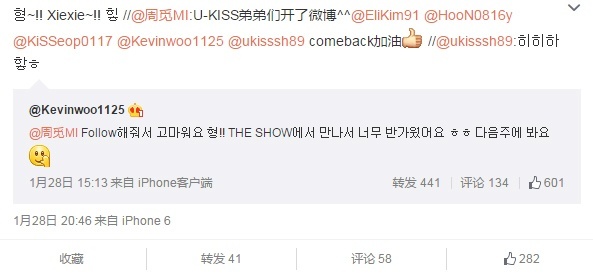 The members also confirmed their new accounts by announcing their user IDs on Twitter. Currently, Kevin has the most number of Weibo followers, with nearly 5,000 following him.
Other K-pop celebrities who have created Weibo accounts in the month of January include Sohee, Ji Chang Wook, and Super Junior's Leeteuk.
U-KISS just made their comeback on January 22nd with their 10th mini-album Always and title track music video "Playground."
Share This Post