Upcoming Park Shin Hye-Lee Jong Suk drama shares 6 facts about the "Pinocchio Syndrome"
With the start of the SBS drama Pinocchio set to air on November 12th, Park Shin Hye tells us the main points about the "Pinocchio Syndrome" viewers should be aware of.

A set of still cuts focusing lead actress Park Shin Hye was recently released, and along with it, six fictional symptoms that derive from the "Pinocchio Syndrome".
1. If you lie, you will automatically start to hiccup. This is a diagnosed impossible to treat if you hiccup at least 1 out of 43 times you lie to someone.
2. You will start to hiccup even if you lie over the phone or by text.
3. If you lie but immediately say that you lied, you will not hiccup.
4. If you tell a minor lie your hiccups will subside quickly, but it will weigh on your conscience and lead to a bigger lie.
5. People with "Pinocchio Syndrome" tend to be excluded and have a hard time socializing due to their inability to say minor lies such as "your daughter is so pretty".
6. People tend to believe people diagnosed with "Pinocchio Syndrome" because the hiccups are a huge giveaway when they lie and everything else they say is assumed to be true.
Playing the role of Choi In Ah, who suffers from the "Pinocchio Syndrome", Park Shin Hye will be joined by her male lead Lee Jong Suk as they play two aspiring reporters.
Pinocchio will start on airing every Wednesday and Thursday on SBS at 10pm KST on November 12th. It is written by Park Hye Rin and produced by Jo So Won.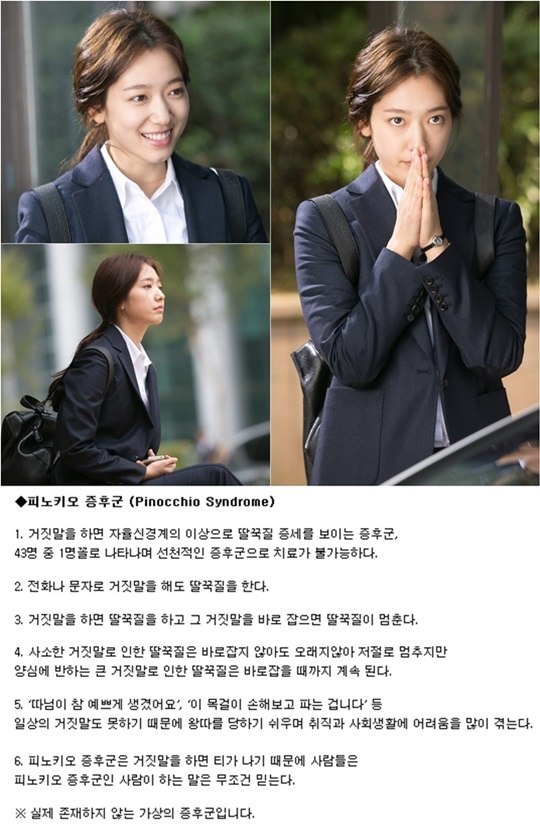 If you can't wait here are some stills and a teaser that has already been released!
Source: Newsen
Share This Post